Niwot boys cruise to fourth straight win
Jocelyn Rowley
Senior Jacob Elston scored twice, while three of his teammates also found the back of the net as the Niwot boys soccer team posted a 5-0 victory over Mountain View at home on Sept. 23. It was the fourth straight win for the Cougars, who improved to 6-2 on the year, and remain undefeated in Longs Peak League play.
"It's really good to start to see a variety of guys show up," sixth-year head coach Stephen Dimit said. "We're still a team working on things, and we're working the patterns consistently, we're working all the right stuff, and it's just a matter of getting it to click together."
As Dimit went on to note, it sometimes takes awhile for the offense to click, as it did against the Lions. Elston started the scoring in the ninth minute, but the Lions' defense kept the Cougars out of the net for the next 45 minutes of game play, despite a high pressure attack. Sophomore Jett Feiner finally broke through 15 minutes into the second half to make it 2-0 Niwot, and the goals kept coming after that, with another from Elston, and one apiece from seniors Azael Marrufo and Mason Wright. Marrufo also posted two assists, while juniors Orlando Lopez and Lucas Haratsaris had one apiece.
"We have Azael contributing a ton right now," Dimit said of the forward, who has 10 goals and eight assists on the year, to lead the team. "But, in terms of scoring, we're getting more guys on the board, so it was good to see Jake with two today as well."
On the other side of the field, junior Javier Amaya had a quiet day in goal, stopping the few shots that made it through Niwot's defenders. Though not particularly challenged in the win against Mountain View, Dimit said the Cougars' defense has been a pleasant surprise so far this season.
"We've had more experienced guys on the outside and we've really put a lot of new guys and young guys in the center. They have stepped up so big over the last few games. We weren't sure how it was going to work out or what it would look like, but we're on a shutout streak of four games now, so you know it's really coming together."
Jocelyn Rowley
Niwot is now heading into the second half of its 2021 season, and faces a tough league schedule in October, plus rivalry games against Silver Creek and Skyline to close out the year. Dimit said that he is happy with the team's direction so far, and is looking forward to having his expectations exceeded in the run up to the postseason.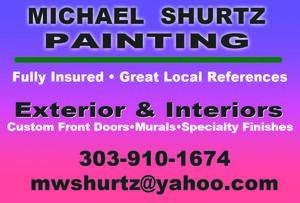 "The league's getting better, and we're seeing some of these teams put together better soccer and giving us new challenges. And it's just, can we overcome those challenges? Today, we did."