Boys Swimming: Silver Creek claims fourth straight conference title
At the 2018 Northern Conference championships at the Greeley Rec Center May 12, head coach Debbie Stewart and the Silver Creek boys swim team checked off two more items on their 2018 to-do list: First, win a fourth-straight conference title, and second qualify more than 20 swimmers for state. That leaves just one to go, and after their dominating performance in Greeley, Stewart is even more optimistic about a strong showing at the upcoming Class 4A State meet in Colorado Springs.
"The last goal we need to accomplish is to finish in the top-10," Stewart said after the title win. "I kind of want to bump that up to top five."
The Raptors, a combined team from Silver Creek and Niwot, scored 539 team points to second-place Windsor's 452, thanks to impressive performances from several seniors in the final regular season meet of their high school careers. Chris Wingfield won the conference title in the 50 freestyle with a time of 22.26 seconds, and helped the 200 and 400 freestyle relay teams to second place finishes. He also took third in the 100 butterfly (53.82).
Matthew Winn picked up a pair of fourth-place finishes, in the 50 (23.21) and 100 (51.97) freestyle races, and was also on the second-place 200 freestyle and 200 medley relay teams. Captain Noah Simon was fourth overall in the 200 medley (2:08.03), and sixth overall in the 100 butterfly (57.59), as well as a member of the 200 and 400 freestyle relay teams. After the meet, he credited the Raptors' depth — they had multiple finalists in all but one of the individual events — both for their performance in the championships, as well as their undefeated season.
"The guys swam as hard as they could all season long," he said. "We had a great meet, and a lot of guys made it to state. It just shows it was a whole team effort. I don't know if we won a single race, but we were still right there."
Among those newly minted state qualifiers are seniors Connor Hook, who got a qualifying cut in the 200 freestyle prelim (1:58.67); Alex Wight, who qualified in the 200 individual medley (2:14.52); and John Barbour, who earned his cut with a 1:01.52 in the 100 backstroke. Overall, the Raptors will be sending 22 swimmers to Colorado Springs next week, their biggest contingent ever. Among the top Class 4A teams this season are conference rival Windsor, Pine Creek, and Cheyenne Mountain.
Silver Creek's dive team once again dominated the field, claiming three of the meet's top four marks. Senior Benjamin Willett took second overall, with 435.95 points, followed by senior Ashton Hubert (426.35) in third, and Matthew Teta in fourth with a season-best 413.25 points.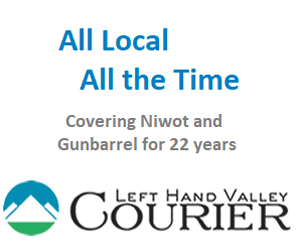 Elsewhere, junior Hayden Dickinson was solid for the Raptors, with a second-place finish in the 200 freestyle (1:48.71), third in the 500 freestyle (5:06.38), and two second places with the freestyle relays. Freshman Connor Hassert was third overall in the 200 individual medley, and fourth overall in the 500 freestyle (5:06.66).
Both Stewart and Simon agreed that this season's conference championship was memorable not just for the convincing win, but also for the way the team went about winning it this season.
"It was a great season and I couldn't have asked for more from the boys," Stewart said. "This was my largest senior class in a long time, and this was a good way to go out for a lot of them. Now, we're just looking forward to going into state and having some really big swims down there."
The Class 4A state swimming championships will be held at the US Air Force Academy on May 18-19.
5/11-5/12 Northern Conference Championships, Greeley Rec. Center
Team Scores — Silver Creek 539, Windsor 452, Longmont 267, Thompson Valley 252, Estes Park 237, Mountain View 143, Valley 81.
Silver Creek Scores
200-yard medley relay — 2. Silver Creek (Willett, Wu, Carson Simon, Winn), 1:42.61*
200 freestyle — 2. Hayden Dickinson1:48.71*; 7. Weston Call, 1:56.39*; 8. Liam Kendrick, 1:59.08*; 11. Connor Hook, 2:01.28
200 individual medley — 3. Connor Hassert, 2:05.23; 4. Noah Simon, 2:08.03*; 5. Andrew Wu, 2:12.16*; 10. Alex Wright, 2:17.25
50 freestyle — 1. Chris Wingfield, 22.26*; 4. Matthew Winn, 23.21*; 9. Dakota Casey, 23.77*
1-meter diving — 2. Ben Willett, SC, 435.95*, 3. Ashton Hubert, SC, 426.35*; 4. Matthew Teta, 413.25
100 butterfly — 3. Chris Wingfield, 53.85*, 4. Carson Simon, 56.22*; 6. Noah Simon, 57.59*; 8. Jack Ranglos, 1:00.36*
100 freestyle — 4. Matthew Winn, 51.97*; 7. Caleb Fischmann, 53.59; 8. Liam Kendrick, 53.87; 9. Ian Curd, 53.97
500 freestyle — 3. Hayden Dickinson, SC, 5:06.38*; 4. Connor Hassert, 5:06.66; 5. Samuel Beaudry, 5:17.91*; 7. Dakota Casey, 5:26.33*
200 freestyle relay — Silver Creek (Winn, Noah Simon, Dickinson, Wingfield)
100 backstroke — 5. Weston Call, 57.92*; 8. Ben Willett, 59.28*; 11. John Barbour, 1:02.99*; 13. Charlie Shrader, 1:05.59.
100 breaststroke — 5. Eric Yi, 1:07.84; 6. Jack Ranglos, 1:08.23
400 freestyle relay — Silver Creek (Dickinson, Hassert, Casey, Wingfield) 3:23.34*
* Class 4A state-qualifying time