Cougar baseball drops two against Longmont
The only thing worse than dropping two conference games late in the season for the Niwot High School baseball team, is dropping those two games to cross-town rival Longmont.
Sadly, that's exactly what happened last week when the Cougars faced the Trojans, first losing at Longmont on Thursday 7-3, then going down at home on Saturday 14-7.
Cougar Head Coach Craig McBride said his team just didn't play well enough to get a win against their longtime rivals.
"They take what you give them, and we gave them a lot," McBride said after the loss on Saturday.
Thursday's game was actually fairly close, with Niwot only down 3-1 heading into the sixth inning. In the sixth though, Longmont put up four runs while the Cougars couldn't score any, making it a tough order to come back down six runs in the top of the seventh.
Senior Ford Ladd pitched the entire game, giving up ten hits and six earned runs while also striking out six batters. Ladd and junior Skyler Messinger were the most effective Cougars at the plate, as Ladd went 1-4 with two RBI and Messinger went 1-3 with a walk.
The best news for Niwot was they only had one error in the first game, which is much lower than what they had been putting up their previous games.
In the Saturday game, there really wasn't much good news.
Longmont dominated the entire game, going up 4-0 in the second inning and building on their lead in every inning after.
Senior Tyler Meek pitched four innings in the loss, allowing seven hits and seven earned runs while recording two strikeouts.
McBride said Meek didn't have an awful day on the mound, but his team couldn't back him up with defense or relief pitching.
"[Meek] didn't do a bad job, but there were a bunch of other things that we needed to do to prevent us from getting to that stage," McBride said. "Sooner or later we have to depend on the relief to come in and do their job."
Three different Cougars attempted to finish off the game on the mound for Niwot, and only junior Griffin Mitchell had any success. Mitchell went 1.2 innings and allowed no hits or runs to close out the game.
Junior Hunter Stephens, who has had success in relief this year, came in as the immediate relief for Meek and went 1.1 innings, giving up two hits and three runs. Senior Romey Clement came in during the sixth inning and didn't record an out, walked three batters and then gave up a grand slam.
Though the pitching was lackluster on Saturday, Niwot did have quite a bit of success at the plate. Messinger went 3-4 with a run and two RBI, while Stephens and senior Michael Agado went 2-3. Ladd only had one hit on the day but he also had 4 RBI.
With those losses now in the past, McBride said his team needs to have a short memory and get back to playing their brand of baseball.
"The way the RPI is going right now we would still be fine for the playoffs if we win out," McBride said of his team's postseason chances. "We have to put together a string now, we aren't out of it and we don't think we are out by any means."
One thing that has stood out about this team the entire season is how they refuse to quit. In the loss on Saturday, the Cougars went into the fifth inning down 8-0. They then put up four runs in the fifth, cutting the lead to four runs.
After the top of the sixth inning, they had allowed six more runs and easily could have quit trying. But they didn't and scored another three runs, making the game 14-7.
"They don't quit, and that's a great trait," McBride said of his team. "Early on we were playing great defense with no errors. It seems like we are going backwards in that area and we need to figure that out."
Niwot looks to get back in the win column this week as they take on Skyline in a non-conference game on Tuesday 4:00, then start a series with Northridge with an away game April 28 at 4:00 p.m. and then hosting Northridge on Saturday at noon.
Niwot (6-7) 000 100 2 – 3 3 1
Longmont (7-4) 000 304 x – 7 10 2
W — Hassler. L — Ladd. Sv — Cardenas.
Niwot hitting (ab-r-h-rbi) — Joe Wilson 4-1-1-0, Hunter Stephens 3-0-0-0, Skyler Messinger 3-0-1-0, Trevor Green 0-0-1-0, Ford Ladd 4-0-1-2, Tyler Meek 3-0-0-0, Christian Cloar 2-0-0-0, Michael Agado 2-0-0-0, Zach Morgan 0-1-0-1, Jake Sims 2-0-0-0. SB —Green. Totals 23-3-3-3.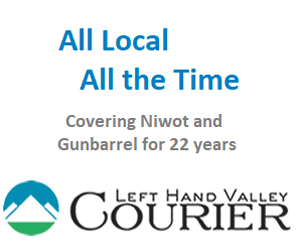 Longmont hitting (ab-r-h-rbi) — Austin Hassler 3-0-2-0, Matt Zumudio 3-0-1-1, Andrew Voydat 3-0-1-1, Noah Befus 3-2-2-2, Cooper Rothe 3-1-1-0, Ryan Rulon 3-1-2-2, Mason Peterson 3-1-0-0, Kavan Andrew 3-0-1-1, Connor Hayes 0-1-0-0. 2B – Hassler (2). Totals 27-7-10-6.
Niwot pitching (ip-h-r-er-bb-so) — Ford Ladd 6-10-7-6-3-6.
Longmont pitching (ip-h-r-er-bb-so) — Austin Hassler 6.2-3-3-3-7-7, Reece
Cardenas .1-0-0-0-0-0.
Longmont (8-4) 041 126 0 – 14 10 0
Niwot (6-8) 000 043 0 – 7 10 3
W – Renck. L – Meek. S – Rulon.
Niwot hitting (ab-r-h-rbi) — Joe Wilson 3-2-1-0, Hunter Stephens 3-0-2-0, Skyler Messinger 4-1-3-2, Ford Ladd 4-0-1-4, Tyler Meek 3-0-0-0, Christian Cloar 3-0-0-0, Michael Agado 3-1-2-0, Zach Morgan 3-2-1-0, Jake Sims 3-1-0-0. 2B – Ladd. SB — Messinger. Totals 29-7-10-6.
Longmont hitting (ab-r-h-rbi) — Austin Hassler 3-3-3-5, Matt Zumudio 4-0-0-0, Andrew Voydat 3-2-2-0, Noah Befus 3-2-1-1, Cooper Rothe 5-0-2-1, Ryan Rulon 3-2-1-1, Mason Peterson 4-1-0-0, Kavan Andrew 2-1-0-0, Avery Peterson 0-1-0-0. 3B – Rothe. HR – Hassler (2). SB – Rulon (3), Voydat, Andrew. Totals 30-14-10-8.
Niwot Pitching (ip-h-r-er-bb-so) – Tyler Meek 4-7-7-7-2-2, Hunter Stephens 1.1-2-3-3-1-1, Romey Clement 0-1-4-3-3-0, Griffin Mitchell 1.2-0-0-0-2-1.
Longmont Pitching (ip-h-r-er-bb-so) – Dagin Renck 5-6-4-4-5-6, Kavan Andrew 1-3-3-3-1-2, Ryan Rulon 1-1-0-0-0-1.