There's a new sheriff in town
Bruce Warren
Curtis Johnson, who was elected Boulder County Sheriff in the November 2022 election, was sworn in as the top law enforcement officer in Boulder County on Jan. 10.
Johnson succeeds Joe Pelle, who served an unprecedented five 4-year terms as Boulder County Sheriff. Pelle is a former Niwot resident whose wife Stephanie worked at the Niwot Post Office for many years, and as a result, was very familiar with the community.
Johnson, a Boulder native whose father, Clayton "Swede" Johnson, was a prominent Boulder attorney with Chrisman, Bynum & Johnson for many years, lived in Louisville but lost his home in the Marshall Fire. He now lives in Superior while waiting to rebuild his home. He worked for the City of Boulder police department for 27 years before joining the sheriff's office in 2021 as a division chief.
Since the election, Johnson has made it a point to get a better understanding of Niwot and its residents, and their concerns. To that end, he met for lunch on Jan. 6 with Niwot Business Association president Eric Bergeson, Niwot Community Association president David Limbach, Niwot Historical Society president Kathy Koehler, and Niwot Cultural Arts Association president Biff Warren.
The Niwot representatives spoke of the positive relationship local residents have enjoyed with the sheriff's office, noting the relative lack of crime and the importance of having a sheriff's substation at the Niwot fire station. Johnson said he valued the Niwot substation as a place for officers to work away from the main office at the county jail on the outskirts of Boulder.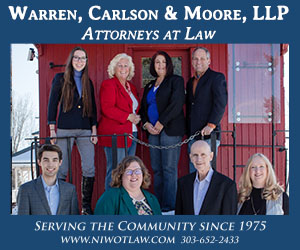 Johnson also discussed the recent passage of a ballot issue that will provide tax funds for wildfire mitigation, and how that might benefit communities such as Niwot. "We learned so many lessons from the Marshall Fire that will help us in the future," Johnson said. He noted that better management of open space could help reduce fire danger.
"The Middle Fork Fire, which was the same day as the Marshall Fire, didn't spread through pasture land," Johnson said. He noted that the Middle Fork Fire west of Niwot was quickly contained that day in spite of the high winds, in contrast with the Marshall Fire. "Stubble won't burn, but 4-foot high dried grass will," Johnson said.
Johnson also hopes to have funding to build a new facility next to the county jail which would allow more opportunities for mental health treatment in a less secure setting for inmates who don't require a high level of security.
Johnson discussed the emergency notification system in place now, and asked the Niwot representatives to help spread the word to local residents to make sure they have registered their cell phone numbers as well as landlines. "You can sign up multiple addresses," he said, "so if you live in Niwot and also have a business here, or horses in another location, you can put all of those addresses into the system."
The system is known as Everbridge, and residents can sign up by searching Everbridge Boulder County on the internet.
Johnson speaks regularly with the Board of County Commissioners, and noted that he is often asked what is on the mind of residents. Limbach mentioned subdivision paving in the unincorporated areas of the county as a primary concern, and noted that he is optimistic that recent discussions with county officials will result in some progress.
Koehler cited parade security and events such as National Night Out, sponsored by the NCA and the sheriff's office, as making a positive impact in the community. Johnson said he hoped to make an appearance next summer at the event in Niwot.
Bergeson mentioned traffic issues and the proposed bikeway down the median of the Diagonal HIghway, and Niwot's efforts to include an underpass into Niwot's business district.
Warren said, "We appreciate having Sheriff's officers at Rock & Rails concerts." Johnson noted that it's easy to fill the assignments. "Our officers like coming to Niwot."