Bird flu in Colorado
Attention, all bird lovers! There has been an outbreak of a highly pathogenic avian influenza (HPAI) that has now spread to wild birds in 30 U.S. states. According to recent data collected in April, the most susceptible to the flu are poultry, waterfowl, raptors, and vultures. The flu has been detected in commercial flocks, backyard flocks, and wild birds in Colorado.
According to the Centers for Disease Control and Prevention (CDC), there is very low risk of infection for the general human population. Symptoms of the flu that may appear before sudden death loss include drop in egg production, significant decrease in water consumption, unusually quiet birds, and an increase in sick birds who are inactive, act sleepy, and quit eating.
"HPAI causes many birds to die at the same time and those remaining in the flock will appear sick. An individual bird coughing or sneezing is not a cause for worry," according to the Michigan State University's Veterinary Diagnostic Laboratory.
"There's a lot we don't yet know about this outbreak of avian flu, but with billions of wild birds moving across the continent on migration, we're asking everyone to take some common-sense steps," said Mike Parr, President of American Bird Conservancy.
Luckily, there have not been any recorded bird deaths in Boulder County. Reported cases have been found in Denver, El Paso, Morgan, and Sedgwick counties. Updates on the locations of the outbreak can be found in this link, provided by the USDA Animal and Plant Health Inspection Service: https://www.aphis.usda.gov/aphis/ourfocus/animalhealth/animal-disease-information/avian/avian-influenza/hpai-2022/2022-hpai-wild-birds.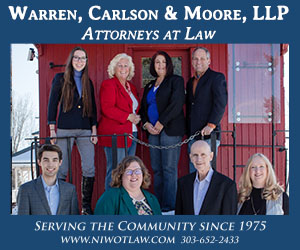 In the meantime, here are some tips to stop the spread of the flu:
• If you have a bird feeder or bird bath, regularly wash it using a 10-percent bleach solution (one part bleach mixed with nine parts water), followed by a thorough water rinse, then let it air dry.
• If you find a dead bird on your property, do not come into contact with that bird (this applies to your pets as well) and report it to your state health department or wildlife agency: https://cpw.state.co.us, http://csu-cvmbs.colostate.edu/vdl/Pages/default.aspx, or call this number provided by the CDC: 1-866-536-7593.
Apart from the avian flu, bird populations have significantly decreased in the last several decades. The North American bird population is down by 2.8 billion breeding adults since 1970. Here's a few tips and tricks to create a bird oasis:
• Plant native trees or shrubs in your backyard. They are vital to birds for rest stops during migration and they provide nesting areas. With the help of the "Tree Wizard" from the Arbor Day Foundation, he can help you find the perfect tree to plant in your area: https://www.arborday.org/shopping/trees/treewizard/GetZip.cfm.
• Keep your cats indoors. Outdoor domestic cats are recognized as a #1 threat to global biodiversity. Cats have contributed to the extinction of 63 species of birds, mammals, and reptiles. Outdoor cats kill approximately 2.4 billion birds every year.
• Protect birds from glass collisions. 1 billion birds die each year after hitting windows and 50% of bird deaths come from hitting home windows. Most birds will avoid glass with vertical or horizontal stripes (or other markings) spaced 2" apart. Stripes should be at least 1/8" wide. Here's a pdf for more tips on how to make your windows bird-proof: https://abcbirds.org/wp-content/uploads/2017/04/Save-birds-2017.pdf.
• You can also sign this petition to urge lawmakers to pass the Bird-Safe Buildings Act: https://act.abcbirds.org/a/take-action-bird-safe-buildings
• One important tool in birdscaping is maintaining a garden that's welcoming to bees, butterflies, and bats. The first step is to plant native plants. A great place to shop is Botanical Interests in Broomfield, CO. Their website also provides articles on native wildflower gardening tips: https://www.botanicalinterests.com.
• This is also a good time to mention that this is No Mow May. No Mow May is a movement which began in the U.K. and is growing in popularity in the U.S. As bee populations are declining, more and more people are letting their lawns grow out. Growing dandelions, clover, and violets is crucial, as bee food is becoming more scarce.
• Dump sand in your garden. Sparrows bathe in sand or gravel to cope with the heat. "Grit" is also useful for eating, as birds lack teeth and actually ingest things like sand to aid in digestion.
• Build a koi pond for all your woodland creatures.
• Avoid using pesticides and herbicides.
• Ways to reduce light pollution in order to help Great Horned Owls and other nocturnal creatures: https://www.treehugger.com/ways-you-can-reduce-light-pollution-4864241