Little Secrets Chocolates comes to Niwot
Deborah Cameron
Something sweet has found a new home in Niwot. Late this August, chocolate candy maker Little Secrets moved its offices from Boulder to a new location just behind 2nd Avenue. According to President and COO Jeremy Vandervoet, they plan to settle in. "We signed a three year lease and anticipate being in the area for the near, medium, and longer term," he said.
Founded in 2015, the company has fairly large ambitions for doing something different in the chocolate world: re-making chocolate so customers can enjoy chemical-free, all natural versions of candy brands they've grown to love. Previously, fair trade, premium chocolate bars were mostly available in a flat, tablet form. Exceptions, such as Justin's Peanut Butter cups, were beloved but not as easy to find as traditional brands.
Consistent with their focus, Little Secrets is currently producing their own versions that mimic Twix™ caramel cookie bars, M&M™ chocolate pieces, and Kit Kat™ wafer bars. In producing these, the company's website asks a question that sums up the brand's ethos: "Is it a knock-off if it's better than the original?"
Each bar the company produces uses fair-trade chocolate, eschews corn syrup or artificial flavors or colors, and chooses non-GMO ingredients. The bars focus on taste creativity with wafer bars that swap out almond butter for peanut butter, or salted dark chocolate for milk chocolate.
From Niwot, these candies find their way into major retailers such as Sprouts, Whole Foods, King Soopers, Alfalfa's, and Natural Grocers. Locally, the chocolates can be found in Niwot Market, and they're also available online through Amazon.com.
It's the drive to sell online that brought the candy maker to come to Niwot. Vandervoet said, "When the pandemic hit, we were all working from home and working from Boulder. The rent was expensive. It's not cheap to be right there in the heart of the city. As luck had it, our lease was up at the end of July this year so in May or June, we started to ask ourselves what we needed as a company."
With more candy being sold online due to the pandemic, the company also looked to jump start its eCommerce business. This required a location with both office space and increased storage. Niwot's space worked well and also made commuting sense for most of the employees who live in the surrounding area.
Little Secrets has a strong base of financial support and experienced executive talent. The company was co-founded in 2015 by Chris Mears of Revelry Investment Group. Mears left Boulder Brands to reimagine natural chocolate products as the heritage favorites that people crave from supermarket shelves.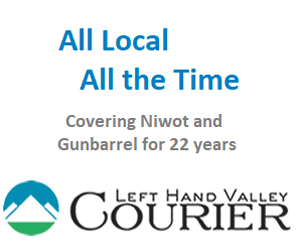 Vandervoet also has a corporate background, his in the candy industry as he worked for more than a decade at Nestle. His last position was as marketing director with a focus on new business development, and he first came to Colorado on a scouting trip. Little Secrets is one of the companies he looked at. While the acquisition didn't happen, he ultimately made the decision to join their staff.
As the business develops, there are some things that customers can look forward to. One of them is the roll out of a seasonal strategy that makes healthier candy options available for a number of holidays. Most immediately, mint candy chocolate pieces are available this Christmas. Later in 2021, the company is hoping to have chemical-free, natural versions available to hand out during trick or treating or to put in an Easter basket.
Since they've come to Niwot, Little Secrets is looking to become more involved in the local community. They're open to participating in festivals or supporting local nonprofit endeavors and events. Anyone interested can email them at [email protected]