Cross Country: Niwot dominates at Class 4A Region 3 championships
Jocelyn Rowley
There wasn't much mystery about the team winner of the Class 4A Region 3 girls cross country race, after Niwot's top five runners crossed the finish line at Denver's City Park a good 30 seconds ahead of any other competitors. That resulted in a rare perfect score of 15 for the Cougars, which head coach Kelly Christensen feels is a good way to close out the 2019 regular season.
"A perfect score is a perfect score, no matter where you get it or who you get it against or whatever the conditions," he said after the Cougars won their second straight regional crown and qualified for the Class 4A state championships on Oct. 26. "You can't expect much more than that."
The Cougars were paced on the day by senior Samrawit Dishon, who captured her first regional title with a winning time of 18 minutes, 55 seconds. She admitted to being "uncomfortable" on the deceptively challenging course, which was relatively flat but mostly covered in long, wet grass.
"It was a good race, but I hope I can be tougher next week," she said of the upcoming Class 4A state championships, where she is among the favorites.
The senior doesn't have much doubt that her team will be tough in the upcoming championship race, which will be held on the more familiar Norris Penrose course in Colorado Springs.
"That was amazing, and it gives me a lot of confidence going into state," she said. "I know they'll be right there with me... Everybody on the team has the ability to kick each other's butts, and I think that's why we do so well."
Junior Taylor James, another contender for the state title, took second overall on the day, with a time of 19:23, followed by freshman Madison Shults in third (19:41), senior Joelle McDonald in fourth (19:48), and sophomore Amelia Philofsky on her heels in fifth. Also competing for Niwot were Eva Lennert, (20:48), Eva Klingbeil (21:02), Mina Altshuler (21:59), and Lauren Hendershot (22:08).
Christensen didn't mind seeing his runners experience a little pain on the mushy course, and believes it will help in the hillier conditions next week. As for his expectations for the upcoming state race, Christensen said he doesn't like the word "peaking," but he agreed that the Niwot girls are well-positioned to defend their 2018 state cross country title, even if they now have a target on their backs.
"They're happy, they're healthy, they're working together, and they treat each other like family," he said after the Niwot girls won their second straight regional crown "They're in a great spot, and now it's just a matter of staying humble and not being too confident."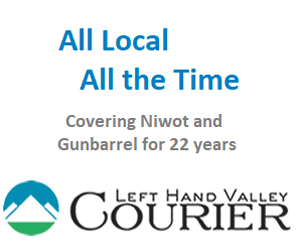 Over in the boys race, the top-10 was another mostly Niwot affair, as senior Cruz Culpepper took the top spot (16:12), followed by a pack of Cougars in fourth through seventh -Jack Kenkel (17:00), Joey Hendershot (17:00), Zane Bergen (17:00), and Joaquin Herrera (17:01)-for a team score of 23. Niwot runners also nabbed the 8th and 9th spots, and no Cougars finished below 20th on the day.
Afterwards, Christensen said the performance went a long way towards alleviating his remaining concerns about the team's mental state.
"We wanted to just make sure they get that effort in that's going to replicate state-visualizing certain points in the course as far as getting out in the first K [kilometer] and then finishing the last K, and never being out of position, and helping each other out, and making it hurt a little during the last mile. Because it's going to hurt a lot next week, but it will be different scenery."
Like his counterpart in the girls race, Culpepper was a little off his rhythm on the "lumpy grass," and is looking forward to being back on the course where he won the state title in 2018.
"It will be good to be back on something with good footing," he said.
Like the girls, Christensen thinks the Niwot boys are well-positioned heading into the upcoming championships, especially with Culpepper in the lead.
"It's amazing with them because they just learned to work together like the girls," he said. "So the maturity, and the sense of family, and the working with each other is there, and it was fun to watch."
10/18 - Class 4A Region 3 Cross Country Championship, East H.S.
Boys Team scores - Niwot 23, Centaurus 52, George Washington 112, Northfield 126, Standley Lake 137, Skyview 143, Denver North 201, Thomas Jefferson 236, Arvada 254, Regis Groff 296, Vista PEAK 315, John F. Kennedy 355.
Top 10 individuals - 1. Cruz Culpepper 16:12; 2. James Overberg, Centaurus, 16:39; 3. Charlie Welch, George Washington, 16:46; 4. Jack Kenkel 17:00; 5. Joey Hendershot 17:00; 6. Zane Bergen 17:00; 7. Joaquin Herrera 17:01; 8. Grayden Rauba 17:05; 9. Michael Carpenter 17:06, 10. Gavin Shary, Denver North, 17:24
Girls Team scores - Niwot 15, Centaurus 64, Standley Lake 81, Northfield 114, Denver North 126, George Washington 131, Vista PEAK 256, Skyview 257, John F. Kennedy 292, Arvada 306
Top girls individuals - 1. Samrawit Dishon 18:55; 2. Taylor James, 19:23; 2. Madison Shults 19:41; 4. Joelle McDonald, 19:48; 5. Amelia Philofsky 19:48; 6. Ryley Darnell, Standley Lake, 20:21; 7. Maggie McClecskey, Centaurus, 20:23; 8. Alexandra Emerson, George Washington, 20:31; 9. Sophia Abernethy, Standley Lake, 20:41; 10. Evelyn Phillips, Denver North, 20:42
Jocelyn Rowley