Dylan Schwab-Familiar Face
Vicky Dorvee
An email from Sarah Brown to the Courier read, "In May I started working at Lucky Pie in Niwot and have had the pleasure of working with Dylan, the general manager. We have a constant joke going at work about how he's the mayor of Niwot since he seems to know everyone that lives in the area. He's one of the kindest people I've ever known, let alone worked with. So, if you take suggestions for Familiar Faces, I'd love to see him in there! He really deserves all the recognition as he is a wonderful boss as well as a great community member and friend."
What a great suggestion Sarah. We agree, and that's why this month Dylan Schwab is our Familiar Face.
Left Hand Valley Courier (LHVC) -Where are you from and what brought you the area?
Dylan Schwab (DS) - I was born in Miami, Florida and my parents moved my younger brother and myself to Colorado so we could grow up in a better place. I attended Centennial Middle School and Boulder High. I live in old town Louisville with my wife Kelsey, our 15-month old daughter Lucy, who is my everything, and our Pitbull Snoopy.
LHVC - What is your role at Lucky Pie?
DS - I'm the general manager of our Niwot location and run the bar programs for all three Lucky Pies. I'm striving for the beverage director role.
LHVC - What parts of your job are the most rewarding and the most challenging?
DS - I strive to inspire my staff and our guests. My goal every day is to teach someone on my staff something new and to serve someone something they wouldn't normally go for. If I can make something that makes you sit back and spark sincere thought, and I can see your eyes are open to something new, I've done my job.
The challenging part would be growing a restaurant. There are infinite challenges on a day-to-day basis... I love it. I feel like people who've had chaos in their lives tend to gravitate towards restaurants. It's a full night of chaos, but at the end you're gratified you held it together with your team. I think it gives us a thought that we can control the chaos in the rest of our life.
LHVC - What triumphs and disappointments have made you who you are?
DS - When I was 17, I thought I'd be playing football collegiately and unfortunately had two knee surgeries that ended my football dream. When I graduated high school my dad told me I had two weeks – either I was going to school or getting a job.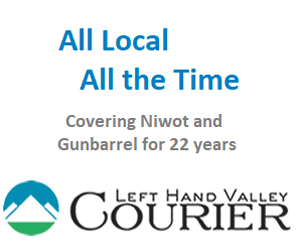 He worked three jobs so my mom could stay home and raise my brother and I. I always tried to match his work ethic. He would give you the shirt off his back and there was my mother's unconditional love. They both made me who I am.
My daughter is my biggest point of pride. My dream was never work or education related. I strive to be the best at what I do, but being a dad is my biggest dream come true. Waking up to a big wet kiss from her makes the 12-hour days feel easy knowing I'm doing it for her.
LHVC - Did you take any post-high school classes?
DS - I went to Front Range Community College for two years and studied business. I study my craft every day. I'm constantly reading and trying to better myself as a leader, husband, father, and teammate.
LHVC - What are your hobbies and passions?
DS - My biggest hobby would be spending time with my family. I work a lot, so any spare moment I try and have an impact at home. My days off consist of spending about five hours preparing a meal for my wife and daughter. On my days off, I turn my phone on silent to be present.
LHVC - In what ways do you connect with the community?
DS - My connection is mostly through the restaurant. The owners do a lot of donating to charity but don't really display it. I try and serve everyone who comes through our door with the idea that I can make their day better. I strongly believe that your server or bartender can be your pseudo-psychologist or distant family member who's there to listen.
LHVC - Any plans you're looking forward to and goals you're working towards?
DS - Professionally, growing this restaurant in the community and becoming a certified sommelier and Cicerone. Personally, traveling and buying a house for my little family. I am trying to genuinely make a positive impact on everyone's lives around me.
LHVC - What is something people would be surprised to learn about you?
DS - I studied Kung Fu in Miami with my dad for years and we're big into martial arts. I 'm surrounded by amazing people who make me look great. Our assistant general manager Sarah, bar manager Peter, and Chef Josue are the ones who really do the hard work and make the restaurant what it is. I just happen to be the face and get the credit. They're my inspiration every day and I would love to be able to give them the shine they deserve.
The Courier runs a Familiar Face column each month. If you have a suggestion for a profile of a Familiar Face you see in Niwot, Gunbarrel, or South Longmont, please email your idea to Editorial@lhvc.com.