Good oil and gas regulations make good neighbors
The Lookout Alliance gathered on Wednesday, July 24 at The Left Hand Grange (195 2nd Avenue, Niwot) to discuss newly released reports on the air quality surrounding Boulder Reservoir. The group hosted Dr. Detlev Helmig, associate research professor at the University of Colorado's Institute of Arctic and Alpine Research, who presented the findings from the INSTAAR air quality testing lab at Boulder Reservoir.
The lab pulls air samples to test oil and gas emissions coming into Boulder County. It is the only full-time air quality sampling lab along the Front Range. Helmig's team specifically looks for the oil and gas fingerprint — which is denoted by ethane. Other emissions like nitrogen oxides, methane, and VOCs (volatile organic compounds) may also signify oil and gas development. Helmig looks for these well-known tracers when analyzing air quality samples to see if oil and gas had any part in generating an increase in ozone composition.
Helmig said that the mix of VOCs, nitrogen oxides, and sunshine drive production of ozone while ethane acts as a unique tracer for oil and gas development, "Ozone is a very important species here and we're very worried about this." Helmig was careful to note that oil and gas development does not emit ozone directly, but it does put nitrogen oxide and VOCs into the air, which can foster an increase in ozone production.
By correlating wind direction and air composition, Helmig created graphs of transport events — moments during the day where wind gusts come in from the northeast and cause methane, ethane, nitrogen oxide, and VOC levels to spike dramatically. On Dec. 22, 2017, air quality tests from the INSTAAR lab showed high levels of these emissions moving down from the northeast into Boulder County over the span of six to eight hours.
Helmig said, "Someone pointed out to us that on the same day… there was an explosion event, where in Windsor due to some gas release or a leak, this wellsite exploded on the same day. It seems like a real coincidence that we saw this high risk event. If these are related, this would imply… there was leakage possibly in this area that lasted throughout the day (preceding the explosion)."
NOAA runs the Earth System Research Laboratory on Niwot Ridge and periodically takes air quality samples. Its tests show extremely low traces of ethane, nitrogen oxides, and VOCs. During the presentation, Helmig said the weather patterns in Colorado trend west. So, theoretically, Boulder County should receive mostly clean air moving from the mountains to the plains. "Here down in the plains, we have these (transport) events, and there aren't just two or five over the year, there are hundreds."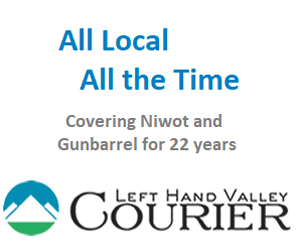 According to Helmig's findings, when wind rolls in from the northeast, which it does with notable frequency, it deposits harmful levels of ozone-saturated air in Niwot, Gunbarrel and the surrounding areas. The acceptable ozone level for the US is 0.070 parts per million, which is notably higher than other nations. From July 26 to July 28, ozone levels from air pulled at Boulder Reservoir's testing lab exceeded the acceptable level multiple times.
Helmig went a step further and captured air samples from well sites in Boulder County and found even higher levels of ethane, nitrogen oxides and volatile organic compounds. By reviewing and interpreting two years' worth of data, Helmig connects the dots between oil and gas development and dangerous air quality levels in areas adjacent to well sites, including Niwot and Gunbarrel.
The audience was audibly shocked by Helmig's findings. When the presentation opened the floor to questions, many guests asked, "What is our recourse against Weld County?" Boulder County, in relation to neighboring counties, has been stricter on oil and gas development. But most of the wells causing concern and air quality degradation are in Weld County.
Jonathan Singer, state legislator, said, "Rule making is still taking place. So, legislature, we changed the rules. We said there's going to be local control. We're prioritizing health and safety. We're taking away this mandate for the state to foster the industry. But the state Oil and Gas Conservation Commission has to create these new rules now...but they haven't started creating the rules within the new parameters we set. You guys all need to show up and make our voices heard."
The Lookout Alliance also offered tips to combat oil and gas development and asked guests to continue fighting for what they believe in. TLA put out a call to action for residents to attend public hearings and committee meetings on July 29, 31, and Aug. 1. For more information on The Lookout Alliance and its mission, visit the Facebook page, https://www.facebook.com/lookoutallianceboulder/.