Fresh fantastically fast Fringe Pizza opens in Gunbarrel
Dani Hemmat
If the mark of a neighborhood's growth is measured in pizza joints, then Gunbarrel can puff out its chest and brag away. First Proto's Pizza, then Domino's Pizza, and now there is Fringe Pizza, which opened its doors about a month ago.
A concept restaurant from owner Nate Rajotte, Fringe is definitely different. The tiny pizzeria, located right next to Rush Bowls on Spine Road, is working in less than 400 square feet, but that's enough to house the remarkable pizza oven that is just one of the things that sets Fringe apart.
The small, but mighty Marra Forni, an Italian-designed, American-made brick oven, cooks the pizzas at Fringe in about 90 seconds. Standing next to one for any length of time shows fortitude, as the oven is operating at 880 degrees while its interior rotates to cook the pies evenly.
Mark Cosiglio, Fringe's general manager, notes the tiny rotating inferno is not the only unique twist Fringe employs.
"Our flour comes from one specific region in Italy," Cosiglio said. "We start the dough with a sourdough starter, and then it ferments for two days, making for a light, fluffy crust that's crispy and very flavorful."
"That also makes it more easily digestible," he added.
The Neopolitan-style pizzas are made with many locally sourced ingredients, and all are prepped fresh to order. Each pie is about 12 to 13 inches, and Fringe feels that the pies are at their best if consumed immediately.
The menu includes combinations such as smoked pork, jalapenos, goat cheese and charred pineapple; roasted rapini, Calabrian chilis and lemon-honey bread crumbs; and their lamb pepperoni pizza, featuring a custom-made pepperoni that each employee attested to being the best pepperoni they've ever eaten.
While there are a few seats inside the tiny pizzeria and Fringe shares some outdoor seating with Rush Bowls, the business is primarily takeout. However, Fringe offers Finkel & Garf Brewery patrons the option of getting a hot pizza delivered right to the bar, so a now cold brew with a hot pizza pie hand-delivered to your barstool is a dream that has become a reality.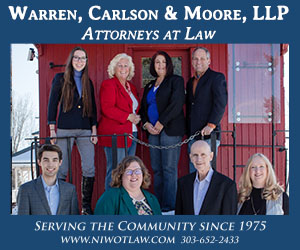 Fringe Pizza's Gunbarrel location is the first of its kind, with the next one planned to open in Golden sometime in May. Fringe Gunbarrel is open seven days a week, 11 a.m. to 9 p.m., and is located at 5400 Spine Road. For more info, visit http://www.fringepizza.com