Dennis Hurianek
February 21, 1947 – April 7, 2018
Dennis Jerome Hurianek, 71, passed away on April 7, 2018 at his home in Niwot.
Dennis was born February 21, 1947 in Denver, CO to Jerome W. and Lois E. (Cushatt) Hurianek. Dennis grew up around the world with his family wherever his father was stationed as a US Army medic. He graduated from Kaiserslautern American High School in Kaiserslautern, Germany. As a young man, he was a Boy Scout, achieving the Order of the Arrow, and a camp counselor.
Dennis earned a BA in Education in 1969 from Colorado State College (now UNC) in Greeley, CO and an MA in Education from UNC in 1974.
On July 19, 1969 he married Nancy N. Waddingham in Aurora, CO. They lived in Longmont from 1972 to 1984 and have made their home in Niwot since.
Dennis' long career as a teacher/educator began in Wiley, CO in the fall of 1969 where he and Nancy taught until 1972. He spent 30 years with St. Vrain Valley School District at Niwot Elementary. Dennis was a recognized elementary teacher who specialized in math and technology, and he conducted professional development classes for other educators. After retiring in 2001, Dennis remained active in education with Centennial BOCES where for more than 15 years he facilitated distance learning for high school students in rural Colorado schools.
He was an active member of Westview Presbyterian Church where he served as both Elder and Deacon. He served for many years on the Westview Outreach Committee and with the Presbytery of Plains and Peaks Mission Committee. He was instrumental in establishing the Round Pantry at Westview and became the "Box Man," dealing with mountains of boxes and cardboard after every Pantry. For many years Dennis was a co-chair of the Boulder County CROP Walk. He volunteered for the Boulder County Homeless Shelter, organizing volunteers from Westview. One of Dennis' more recent passions was disaster recovery; he and Nancy led 11 work mission trips for Presbyterian Disaster Assistance.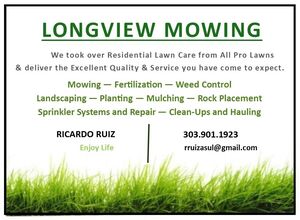 Dennis was a wonderful father who was involved with his children in scouting, youth group, and sports. He and Nancy were proud of having built their home in Niwot. Dennis was a hands on kind of man who enjoyed fixing most anything. A special interest for Dennis was traveling, whether with his children in the white conversion van or later with Nancy in their camper to various states or to international destinations.
He was preceded in death by his parents and brother Larry. Dennis is survived by his wife Nancy, children Nate Hurianek; Noah Hurianek, wife Sarah; Emily Hurianek, husband Andrew Sweeney; and two grandchildren, Lauren Hurianek and Lucas Hurianek, to whom he will always lovingly be Pops.
Those who knew Dennis will know that this obituary is destined to fail - words will never be able to capture the quietly dynamic and deeply generous spirit of Dennis J. Hurianek.
A celebration of Dennis' life will be held at 10:00 a.m. on Friday, May 4, 2018 at Westview Presbyterian Church. A backyard BBQ to celebrate Dennis will be held at 1:00 p.m. on Sunday, May 6, 2018 at his home in Niwot. Cremation entrusted to Ahlberg Funeral Chapel and Crematory. Memorial contributions may be made to The Round Pantry at Westview Presbyterian Church or Boulder County CROP Walk. Share condolences at www.ahlbergfuneralchapel.com.