Wrestling: Stager sets school record for all-time wins in impressive start to season
Senior Tommy Stager is making a statement in his final season as a Cougar. On Dec. 9, at the Charlie Lake Dual Tournament in Cheyenne, Stager earned his 135th career victory, surpassing older brother Nick's school record of 134.
But that was just one of the 3-time state qualifier's milestones on the young season. On Dec. 8, Stager won his first high school match at 145 pounds, pinning Longmont's Zane Lovato. He wrapped up the busy weekend with a second-place win at the Charlie Lake Invitational on Dec. 10.
On Dec. 17, Stager won in a sudden victory over Palmer Ridge's Dre-Son Scruggs to become the first Niwot wrestler to win at the Northern Colorado Christmas Tournament (NCCT), held annually at the Budweiser Events Center. This win came on the heels of two consecutive losses for Stager, which head coach Bobby Matthews said was a learning experience for his star.
"I think more than anything he learned from those losses," he said. "Not so much in what those guys did to him but more about himself and his preparation."
Even though he is racking up the honors and getting plenty of attention along the way, Matthews said Tommy and the team are taking it all in stride.
"Tommy ... doesn't really buy into the hype," he said. "The team sees the same Tommy day in and day out."
Stager is leading a resurgent Niwot wrestling program, which is finding success in unexpected places in this young season. Junior Brandon Barton (152) kicked off his season with a fall over Longmont's Ben Whitcomb. He then won three of five matches at the Charlie Lake Duals Tournament, and scored six points in the Invitational the next day.
Junior heavyweight Jose Lopez has also notched several victories to start the season, including wins against JJ Lord of Longmont, and against Highland Ranch heavyweight Timothy Bernhardt at the Charlie Lake Duals. At the NCCT, Lopez notched two falls, and scored nine points for his team, before being pinned in the fifth consolation round by Horizon's Joey Orrino.
"We have a couple guys coming along nicely," said Matthews of his team. "Freshmen are learning to compete and that's really what we need from them right now."
Unfortunately for Niwot, strong individual performances aren't translating into team wins, and the team's relative inexperience is at times evident. Niwot dropped their opening meet, 43-35 to Longmont, despite winning the same number of matches outright. But twelve of Longmont's points came from forfeits in the 120 and 182-pound classes.
The team won just two of its five dual meets at the Cheyenne Tournament, against Wheatland, Wyo. (40-36) and Highlands Ranch (40-37).
On Dec. 14, the Cougars were shut out against the Greeley Central Wildcats, who finished second at last year's 4A state tournament. Stager was handed his second loss of the season, to sophomore Tony Ulaszek, a third-place finisher at state as a freshman.
In tournament competition, Niwot scored 25.0 teams points, and placed 17th out of 21 at the Charlie Lake Invitational. They scored 50.0 at the NCCT, which was good for 32nd out of 63 teams.
Matthews isn't too concerned about the losses so early in the regular season.
"This sport really comes down to two weekends in February," he explained. "Going into regionals all your record does for you is place you on a bracket."
The team is off for the winter break, and back on the mat against Northridge on Jan. 5. Niwot will host the Gary Daum Tournament on Jan. 7.
Longmont 43, Niwot 35 (12/8)
106 — Dominique Martinez pinned Colton Gruszczynski; 113 — John Nicolas pinned Aaron Corchado; 120 — Michael Barron won by forfeit; 126 — Dylan Hassler dec. Luis Sosa; 132 — Alex Gazdik dec. Leif Nuesken; 138 — Dylan Bonge dec. Brayden Engelking; 145 — Tommy Stager pinned Zane Lovato; 152 — Brandon Barton pinned Ben Whitcomb; 160 — Zach Swatfigure pinned Aiden Tank; 170 — Nathan Morrison pinned Ray Salcido; 182 — Longmont won by forfeit; 195 — Dom Policaro pinned Nathan Hemmenway; 220 — Nash Frederick pinned Jairen Ovalle; 285 — Jose Lopez won by injury forfeit over JJ Lord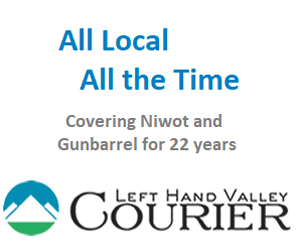 Charlie Lake Invitational (12/10)
Team scores — Windsor 195, Cheyenne East 133.5, Poudre 112.5, Kelly Walsh (Casper, Wyo.)101, Glenrock, Wyo. 98, Erie 92.5, Mountain View 87, Sidney, Neb. 75, Douglas, Wyo. 64, Eaton 63.5, Fort Collins 62.5, Cheyenne South 62.5, Wheatland, Wyo. 44.5, Cheyenne Central 43, Torrington, Wyo. 39, Longmont 28, Niwot 25, Saratoga, Wyo. 16.5, Gering, Neb. 11, Burns, Wyo. 10, Greeley West 10.
Niwot Results
106 — Cons. Round 2: Michael Ferrera, Erie pinned Colton Gruszczynski (0:26)
113 — Cons. Round 1: Levi Lopez, Central, WY pinned Aaron Corchado (2:21)
126 — Cons. Round 2: Taten Bennett, Douglas, WY tech fall Luis Sosa ( (TF-1.5 2:28 (16-1))
132 — Cons. Round 1: KC Higer, Sidney, NE dec Alex Gazdik (8-1)
138 — Cons. Round 3: Chase Vossler, Cheyenne East dec Dylan Bonge (2-1)
145 — Championship Round: Erik Contreras, Mountain View dec. Tommy Stager (4-1)
152 — Cons. Round 2: Dax Read, Douglas, WY pinned Brandon Barton (0:40)
160 — Cons. Round 1: Tyler Grasmick, Windsor pinned Zach Swatfigure (3:18)
195 — Cons. Round 3: Ruben Portillo, Erie dec Nathan Hemenway (5-1)
220 — Cons. Round 2 - Trevin Evenson, East, WY pinned Nash Frederick (1:22)
285 — Cons. Round 2 - Jadon Williams, Glenrock, WY pinned Jose Lopez (0:20)
Greeley Central 79, Niwot 0
106 — Ricky Zavala pinned Colton Gruszczynski (0:43); 138 — Zeke Alirez maj. Dylan Bonge (18-6);
145 — Tony Ulaszek pinned Tommy Stager (1:23); 152 — Treyvaughn Martinez dec. Brandon Barton (11-7); 195 — Gerardo Arellano pinned Nathan Hemenway (2:50); 220 — Anthony Alirez pinned Daniel Torres (2:58); 285 — Alex Yeadon pinned Jose Lopez (3:12)
Northern Colorado Christmas Tournament (12/17)
Team scores — Pueblo County 197.5, Greeley Central 193.5, Brighton 181, Windsor 179.5, Coronado 128, Mesa Ridge 127.5, Castle View 124, Poudre 123, Cheyenne Mountain 117, Valley 107, Adams City 98.5, Discovery Canyon 95.5, Thompson Valley 93.5, Laramie, Wyo. 92.5, Lakewood 91, Doherty 90.5, Mullen 85, Legacy 84, Platte Valley 72, La Junta 68.5, Air Academy 66, Prairie View 65.5, Legend 65, Cheyenne South 64.5, Jefferson 64, Fort Morgan 59.5, Mountain View 59.5, Palmer 58, Centauri 55.5, Cherry Creek 53.5, Eaton 53.5, Brush 50, Niwot 50, Lewis Palmer 49.5, Greeley West 48.5, Cheyenne Central 47, Berthoud 43, Elizabeth 42.5, Horizon 41, Holy Family 40.5, Highland 39, Northglenn 38, Rawlins, Wyo. 37, Thornton 36, Silver Creek 35, Northridge 33, Thomas Jefferson 33, Chaparral 32, Hinkley 32, Mountain Range 30.5, Vista PEAK 30, Eaglecrest 27.5, Ralston Valley 26, Abraham Lincoln 25, Denver North 24.5, Bennett 23, Loveland 22, Torrington, Wyo. 22, Fairview 19, Liberty 19, Conifer 18, Smoky Hill 16, Fossil Ridge 10.
Niwot Results
138 - Cons. Round 4: Justin Lien, Castle View dec. Dylan Bonge (4-1)
145 – 1st Place Match - Tommy Stager sv Dre-Son Scruggs (SV-1 13-11)
152 - Cons. Round 3 - Eddie Ramierz, Greeley West dec. Brandon Barton (7-0)
170 - Keith Hemmenway DNP
195 - Cons. Round 4: Joseph Montoya, Mountain View maj. Nathan Hemenway (8-0)
220 Cons. Round 2: Lake Sands, Greeley West) pinned Daniel Torres (1:52)
285 - Cons. Round 5: Joey Orrino, Horizon pinned Jose Lopez (2:18)