Niwot Jewelry & Gifts celebrates 20 years
Many small businesses make up Niwot, but not all of them are the threads that hold the town together.
Niwot Jewelry & Gifts is celebrating its 20-year anniversary in May. Not only has the small jewelry and watch repair store been in business for two decades, but it has been located on 2nd Avenue the whole time.
"It's hard for small, family-owned businesses," owner Jan Kahl said. "They're tough to hang onto. You almost have to have some sort of service to keep going in Niwot."
Kahl and her husband Vern began their business after her father, Owen Irby, owned a jewelry store in Boulder for over 40 years. Now Kahl's son, Jason Scarbrough, also works with her and her husband as the store's manager.
Scarbrough said people can always expect one of them when they come into the store, which helps with its consistency. Selling jewelry isn't always an easy business, and Kahl said most of their business comes from their services.
"When things are going good we're selling a lot of jewelry," Kahl said. "When the economy dipped, our services of selling, repurposing and repairing took over."
Niwot Jewelry prides itself on everything it does with watches and even clocks. "Clock repair is huge because hardly anyone does it anymore," Kahl said.
Even if people just come in to have their watch or clock repaired though, chances are good that they'll see all the jewelry for sale too, which helps the store's business.
After being in business 20 years Kahl has seen a lot of changes happen within the store and in the jewelry industry. She explained that they used to have mainly yellow and white gold jewelry, but had to expand their inventory as society's tastes changed.
"Over the years we had to diversify," Kahl said. "We brought in sterling silver and costume jewelry to have more choices."
Both Kahl and Scarbrough know it's not just their jewelry or services that keep them open, but the customers who keep them going. They've seen generations of families come through the store, which they feel is a testament to their business.
"We're proud we're still here," Kahl said. "Our customers have become friends, they're part of us."
"Twenty years is a testament for how well we take care of our customers," Scarbrough added. "We treat everyone like family."
There are many big box jewelry stores in every big town and some smaller ones, and Scarbrough believes the way they keep all their business is by their reputation.
"In the jewelry business, you have to have a good reputation," he said, "otherwise you won't last long."
One big change the store has made in the past year is adding a computer-animated jewelry design system, that allows people to design their own jewelry right in the store. Customers can make jewelry from scratch or redesign an old piece of jewelry.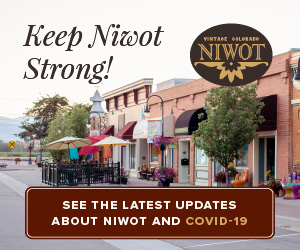 Even though Scarbrough has only been working at Niwot Jewelry for four years, he's looking forward to being able to do more things in house than they already do. With all the skills he already knows, he hopes to expand on the services the store already offers.
"You have to have an eclectic set of skills," Scarbrough explained. " You have to have an image for creativity and design, you have to have people skills and mechanical skills."
More than just being a jewelry store, Niwot Jewelry & Gifts is a true family business. Scarbrough plans to start working more throughout the week and said his oldest son already wants to be in the business too.
The store plans to hold a celebration in honor of its 20th anniversary during the First Friday Art Walk on May 6, with drinks and appetizers.