Niwot and Silver Creek baseball play the waiting game
Jocelyn Rowley
If you haven't noticed by now, this spring has been a little different. The birds are still chirping and the flowers are still blooming, but the absence of baseball is apparent. As of April 12, CHSAA has put a halt to all spring sports until at least April 30. Local high school baseball programs are feeling the ramifications.
With the state-wide stay at home order extending through April 26, there seems to be little realistic hope baseball will be played in the near future.
"I would be more surprised if they let us play than if we got word here this week or early next week that they were shutting us down," said Silver Creek High School head baseball coach Brad Steward. "It's just so many unknowns, and with schools being shut down and kids not sitting in desks, it's pretty hard to allow a baseball team or some other spring sport to gather when you're not allowing kids in schools."
At Niwot High School, Head Baseball Coach Adam Strah has similar sentiments, but holds out some faith with no official cancellation yet. "(I'm) not trying to get their (players) hopes up too much, and at the same time, take a little bit of a sliver of hope that our season hasn't been completely cancelled yet," Strah said.
Staying in touch and checking in with players has been another high priority for both Steward and Strah. Whether it's through group messaging, video conferencing, or phone call, Silver Creek and Niwot are both keeping their squads connected.
"It's a different world coaching from behind a computer," Strah said "...We've got a lot of different ways that we're keeping connected with the kids and I think that's just the most important part right now." Strah has set up weekly online meetings with each squad, varsity, JV and C teams. Although the primary purpose is to check in with players and continue to develop and support relationships, baseball talk has a way of creeping into the conversation.
During the first NHS C team meeting, Assistant Coach Biff Warren noticed a number 8 Cubs jersey hanging in the background of head C team coach Will Pankonin's home office. Warren asked if it was Hall of Famer Andre Dawson's jersey, and Pankonin responded, "No, I wish."
Pankonin then relayed the story of how a family member lived in the same condominium complex as Michael Barrett, a Cubs catcher, and that the number 8 was Barrett's jersey. He went on to tell how Barrett was best known for a home plate collision with White Sox player A.J. Pierzynski in 2013, with Barrett landing a punch to Pierzynski's jaw that ignited a brawl. Strah then followed up by asking a C team player who his favorite team was, and he replied, "the White Sox."
For the Raptors, it's a similar technique to keep everyone linked and talk some ball.
"We talk through text messages as a group and this week I'm going to try and set up an online meeting for us to check in with each other, see how each other are doing, talk some baseball and keep these guys connected," Steward said.
As you might expect, it's a waiting game for any summer baseball plans. According to both Strah and Steward, there have been talks for a round-robin or a seniors-only tournament. They believe it's important that seniors have the opportunity to see the field again, but only when it's proper under health regulations.
"You just don't know what the timeline is for this," Steward said. "If this drags on until mid-June, early-July, that's half the summer season right there that's gone. There's so many unknowns as far as where this is going to go."
Silver Creek has a healthy 13 seniors on its roster, and had state title aspirations after finishing second in 4A last season. Steward said his team put a lot of work in during the offseason and it's been a tough pill to swallow for those seniors.
"What breaks my heart more than anything is these seniors will potentially not get the opportunity to play together on the field as Raptors," Steward said "They'll all go off and do their own thing whether it be club baseball, or summer baseball and most of them are going on to play at the collegiate level but they'll never get to put on the uniform as the class of 2020 again."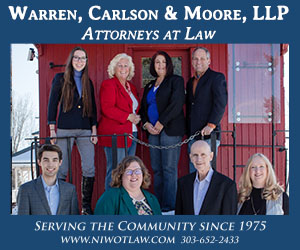 For Niwot, which only had three seniors on its roster, the pill is equally large.
"Whether you have one or 20 of them, it's the same emotion, but it's the hardest part for sure is feeling for those three," Strah said.
Until the clouds clear, baseball is going to have to take a back seat. Steward believes there is still a bright side that his team, and society can extract.
"Hopefully this is an experience for us as a society as a whole," Steward said. "We really understand how important it is to have good relationships with our family and connected with what's most important. We've found out that being able to go out to dinner and being able to watch these highly-paid athletes play the games that we like to watch them play are kind of irrelevant to life and what's really important is the relationships and quality time that you have with those people you care about the most."
Jocelyn Rowley