Niwot Wheel Works to move into former Powder Keg space
Courtesy Photo
For more than two years, the former Powder Keg Brewery space has sat empty on the corner of Murray Street and 2nd Avenue, to the considerable dismay of many locals. But that is about to change, as Niwot Wheel Works has set its sights on a change of scenery, and the large windows, open floor plan, and great views of the spacious corner building make it the perfect spot.
Niwot Wheel Works owner Eric Bergeson was initially attracted to the space because of Niwot's spirit. He explained, "Not the Arapaho Chief, but the energy and goodwill we see in all the folks who have visited our small shop during the past three years. We thoroughly enjoy all the visitors we get, and we like to have them hang around for a while."
Stepping into the current shop feels like walking in the door of an old friend's home. Shop manager Fernando Tapia is usually tinkering on a customer's bike in the back workshop space while Bergeson occupies his usual spot behind the counter - both welcome all who enter with warm, jovial greetings. Hang around for a few minutes and Bergeson will offer a cappuccino or espresso and invite you to have a seat. It was in this spirit of community and friendship that Bergeson realized, "We needed more space to handle our growing bike business. The former Powder Keg space just started to make sense for us."
Anyone who swings by Niwot Wheel Works during a First Friday event soon realizes it's the place to be. Residents from all walks of life gather in the warm glow of the bike shop's interior. Tapia is sure to challenge any newcomer to a rousing game of ping-pong and is a good sport when he loses - which is often. Many residents have made friends at the shop's First Friday gatherings and have walked away with a new-found sense of belonging.
As far as plans for the new space, Bergeson has a layout in mind. "We'll use the front to display bike shop merchandise and as a gathering place where we will serve beverages including beer, wine, and mixed drinks - provided we get the requisite liquor license." The space has long turned interested parties away because of its lack of a kitchen. Bergeson said they don't plan to build a kitchen but hope to have food available. "The bike service area is going in the former brewing area and the warehouse space in the rear will provide much needed storage." In an effort to make the bike shop even more visitor friendly, Bergeson and Tapia are exploring outdoor seating options.
The hope for this new space is that Niwot Wheel Works can expand its growing operation and add to its great selection of bicycles and accessories. Of future business plans, Bergeson explained, "We plan to go bigger into electric bikes. We will also be able to service more bikes, more quickly. We want to be a place where riders like to gather to socialize and fuel up, pre and post-ride. We want to be a quality source of live entertainment in Niwot when we transform from the shop into more of a public house in the evenings." This hybrid bike shop/public house fulfills a need our town greatly needs. Certain restaurants and breweries have either had trouble making it in Niwot or have left to expand their operations in a place with greater foot and vehicle traffic. Niwot Wheel Works is already a fixture of the community and Powder Keg's former space will hopefully lend itself to bolstering the store's lively, neighborhood vibes. In summary, our hope for the new space is that we have a heck of a lot of fun serving customers in it."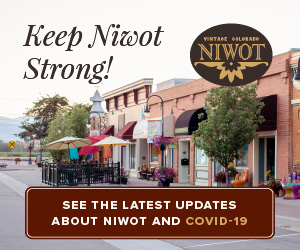 Niwot Wheel Works will not close during the transition across the street nor will it impact their ability to service bikes and sell merchandise. The move will take place throughout the month of March and be finalized on April 1st. A celebratory party will be announced soon. Stay tuned!
Courtesy Photo