Niwot boys claim first Class 4A state title
Jocelyn Rowley
There were plenty of emotions to go around after the Niwot boys' inspiring win at the 2019 Class 4A state cross country championships on Oct. 26, but one in particular seemed predominant among coaches, parents, and athletes alike, according to fourth-year head coach Kelly Christensen.
"A huge relief is probably the best way to describe it," he said after the Cougars beat out 19 other teams to claim the top spot at the state race for the first time in school history. "It's validation for them. They've always worked hard, and they've always been incredible human beings, and they've done a lot of the same things the girls have done, so it's a relief to finally get it."
Paced by individual title winner Cruz Culpepper, the Cougars placed five runners in the top-30 at the Norris Penrose Center in Colorado Springs, giving them 70 points in the final team standings, which was nearly 50 points better than their closest competitor Durango. For Christensen, seeing the boys finally race on the hilly state course "the way we've always wanted them to," was more validation for him and his staff.
"When watching the race, and seeing how well they got out, and seeing them execute it in the moment, the coaches and everybody else that was there was already getting emotional," the coach recalled. "We knew all they had to do was execute the last mile-they needed to save just enough to be passing more people than getting passed, and they all looked strong."
It was the second consecutive title for Culpepper, whose winning time of 15 minutes, 36 seconds also broke the Class 4A course record of 15:42, set in 2017 by Valor Christian's Cole Sprout. Afterwards, the senior said that defending his crown was easier than winning it in the first place.
"Last year, I was hurting bad at the end," the senior said. "But we did some workouts down here, and I've had another year of training."
According to Christensen, breaking the record did as much or more than the repeat title bid to cement Culpepper's status as an elite Colorado runner.
"It speaks volumes to who he is as an athlete to get it the way he got it, with him having his own plan and his own insight for how he wanted his season to unfold," Christensen said, referring to Culpepper's decision to limit his regular season racing. "It could have easily gone the other way, since he wasn't necessarily that sharp coming in. So I was a little on edge, and he was a little on edge on what the outcome might be, but it's cool. It gives something for the other athletes on this team to look up to and aspire to do."
After Culpepper, Niwot's next finisher was sophomore Zane Bergen with a time of 16:30 that was good for 12th place. He was followed by junior Grady Rauba, a first-year competitor who overcame a fall during the first mile to finish in 16:47, for 21st place. Next was junior Joaquin Herrera (16:48) in 23rd, and sophomore Joey Hendershot (16:51) was 27th. Seniors Jack Kenkel (17:02) and Michael Carpenter (17:15) finished 39th and 52nd.
Afterwards, Christensen was impressed by the maturity of his younger runners, and pleased to see them succeed against much more seasoned competitors.
"With them, we thought it might be another year before they delivered," he said of Bergen and Hendershot's performances. "They knew what it took to get out, and they followed the leadership of those who had been there before."
With most of his top runners returning in 2020, both the girls and boys teams seem well positioned to defend their titles. However, Christensen declined to look too far into the future. Instead, he, his coaches, and his runners are going to celebrate in the coming days, but then get back to training for the national cross country races coming up in November and December.
"We're just going to enjoy the story we've created this year and then get in a long run on Monday." he said. "They know that, and they're used to it, and they want to get back to work, so that's what we'll do."
Class 4A State Cross Country Championships
Team scores: Niwot 70, Durango 119, Cheyenne Mountain 156, Air Academy 162, Palmer Ridge 185, Centaurus 189, Summit 216, Battle Mountain 216, Mead 254, Conifer 277
Top 10 Individuals: 1. Cruz Culpepper, 15:36; 2. Dylan Schubert, Thompson Valley, 15:48; 3. Erik Le Roux, Cheyenne Mountain, 15:50; 4. Luke Tichi, Durango, 15:53; 5. Grahm Tuohy-Gaydos Green Mountain 15:54; 6. Matthew Mettler, Air Academy, 16:05; 7. Colin Szuch, Evergreen, 16:14; 8. James Overberg, Centaurus, 16:15; 9. Zack Gacnik, Conifer, 16:18; 10. Matthew Storer, Air Academy, 16:23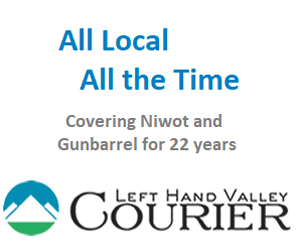 Niwot Individuals: 12. Zane Bergen 16:30, 21. Grayden Rauba 16:47, 23. Joaquin Herrera 16:48, 27. Joey Hendershot 16:51, 39. Jack Kenkel 17:02, 52. Michael Carpenter 17:15
Jocelyn Rowley