Student-Athlete of the Week: Bella Steiner
Courtesy Photo
Dealing with a quirky teammate is an unwelcome annoyance for most high school athletes, but Niwot sophomore Bella Steiner isn't like most high school athletes. For the talented equestrian, managing her temperamental partner isn't just an enormous challenge, it's also enormously gratifying.
"It's so technical, and a lot of people don't know that," Steiner said of her unconventional high school sport. "Everything affects the horse, and creating a bond with your horse is the most important part of competitive riding. If you don't have a good bond, you can't get anything accomplished."
Steiner clearly knows what she is talking about. The 10th-grader recently wrapped up the 2019 competition season by winning Grand Champion in the Modified Child/Adult Jumper division at the annual Autumn in the Rockies Horse Show, held last month at the Colorado Horse Park in Parker, Colo. Steiner beat out 20 other competitors for the blue ribbon after completing the eight-jump course round in the fastest time with no faults. She was also recently awarded a varsity letter from US Equestrian for completing competition and training requirements.
A self-described "horse girl," Steiner was introduced to riding at age five, and was immediately hooked. In the years since, riding has crowded out most other sports, especially after she started competing at age 12.
"I used to be a ski racer, which is probably why I like jumping so much," she said.
These days, Steiner spends five days a week year-round practicing and preparing for horse shows, which take place mostly in the spring and summer. She initially rode her family horse Stella in competitions, but had to move on after an injury forced the two out of the arena for a year. At Autumn in the Rockies, she won with Simon, a horse she leased from a local stable. About a month ago, Steiner started working with Toddy, and is looking forward to getting to know her new partner.
While it's tempting to believe that the horse does much of the work in equestrian competitions, Steiner politely, but firmly, disagrees. Though her role is less physical than her partner's, that doesn't make it any less demanding. Horses are sensitive to even minor shifts in routine, so consistency, attention to detail, and patience are all important skills for the equestrian athlete, as Steiner will quickly attest.
"Every horse is different, so you have to learn the quirks your horse has," she said. "For example, Stella is really 'spooky', which means she gets scared of different things and will bolt. Being in a relaxing environment really helps her."
When she's not in the arena, Steiner is working towards her IB diploma at Niwot High, where she is also a member of the jazz band. After high school, she hopes to continue competing in equestrian events and eventually become a large animal veterinarian.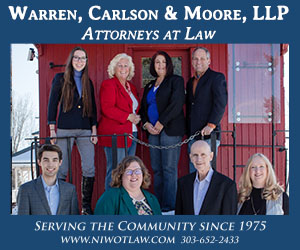 Courtesy Photo