Leading the Pack: Niwot Cross Country sets sights on Class 4A state titles
It will be no small task for the 2019 Niwot cross country program to top the success of last season, especially with the names Layla Roebke, Ares Reading, and Maggie Smith gracing college rosters this year. But that's the expectation of fourth-year head coach Kelly Christensen, and the results from the Cougars' season debut at the VistaNation 2Mile Invitational lend credence to his claims. With top finishers in four of the six races at the exclusive meet, Niwot seems to have more than enough depth on both teams to make another push for multiple state titles.
Of course, talent can be fickle, and Christensen feels fortunate to have a team that's not just quick on its feet, but also willing to put in the grueling work to get quicker. That's been truer than ever for the 2019 Cougars, and one of the key reasons his expectations are so lofty.
"It was the best summer training we've had since I've been here or out of any group that I've ever coached," he said, adding that his boys team specifically "looks better than any team I've coached, as a group." A bold claim, considering he's previously coached three teams and four individuals to championships.
"Both teams are very humble and hungry," Christensen continued. "Everyone saw what the girls did—the girls won it. More than ever, the guys want a piece of it too."
Still, the cross country season can be long and grueling, and a promising debut can be eclipsed by the unexpected down the stretch. If the Cougars are to find their way to the front of the pack in October, Christensen knows it will take patience and more than a bit of luck.
Niwot girls shine in season debut
If there were any doubts about Samrawit Dishon's status as a contender for the 2019 Class 4A individual title, then her performance at this year's VistaNation 2Mile Invitational on Aug. 23 should put them to rest. Out front for almost the entire race, the senior had enough separation from the pack by the final stretch that Christensen gave her permission to ease off the throttle.
"With 600 meters to go, I just told her to shut it down and run it in, no need to race anymore. So she kind of jogged her way in and still almost set a course record. It speaks to her fitness and health right now. It's pretty obvious she's ready to go."
Dishon took first in the girls varsity race with a time of 11 minutes, 38 seconds, a comfortable distance ahead of second-place finisher Madison Reed of Mountain Vista (11:53), and 12 seconds faster than Dishon's own third-place time from the year before (11:50). It was also just six seconds off the fastest ever VistaNation 2Mile time of 11:32, also from 2018.
The senior was all smiles afterward, and said it "feels awesome" to be back out on the course with her teammates. She also agreed with Christensen's positive assessment of her readiness for the long season.
"It wasn't supposed to be the 'best' race we could do—we were just going out to see where our fitness is at. I guess I'm pretty good."
The rest of the varsity squad still has a bit of work to do, but Christensen isn't concerned. Standout Taylor James, last year's state runner-up, was sixth overall (12:26), after what she characterized as an "iffy" performance. However, she started distance training a little later than the rest of the Cougars, thanks to her extended summer track season and then some much deserved vacation time. Meanwhile, senior Joelle McDonald, who finished 12th at state in 2018, was on the sidelines still rehabbing an injury sustained during the summer. The coach expects to have her services back by mid-September.
Otherwise, Dishon's performance was just one of the Niwot highlights coming out of VistaNation. In the newly added freshman/sophomore race, five Niwot runners finished in the top 10, led by sophomore Eva Klingbeil, the youngest Cougar with state meet experience. She was first overall with a time of 12:19, 20 seconds ahead of teammate and runner-up Amelia Philofsky (12:39). Cougar sophomore Ashley Edwards, a transfer from Erie, was third (13:16), followed by Tessa Everett in seventh (13:29) and freshman Madison Shults (13:35) in ninth.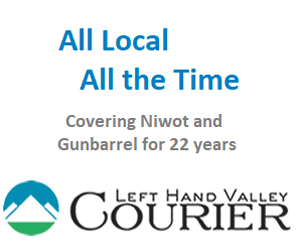 "I'm glad they broke it up that way this year," Christensen said of the new three-division format. "It gave an opportunity for those girls to shine. Being behind Taylor and Samrawit and Lucca, it might be another year or two before they could maybe win a race, even against their teammates. It gave them a chance to see where they're at and not be discouraged by the heavy hitters of the varsity race."
Elsewhere, 11th-grader Lucca Fulkerson, a transfer from Dawson School, battled her way to first place in the junior/senior race. She is unable to compete for the varsity this season due to CHSAA transfer rules, but will be a member of the team in every other way, according to Christiansen.
"I think she had to fight a little harder than Eva and them because of those heavy hitter transfers from Valor. And she beat two of them—Isabella [Prosceno] was second at state cross country two years ago, and Lanie Szuch ran a 17:20 5K, so that speaks highly for where she's at."
It wasn't a perfect day, but at the end of it, Christiansen was happy with the team's performance, and remains optimistic about the chances for a repeat trip to the top of the podium at the Norris Penrose Center in October.
"I think we've got all the pieces we need, and I think that they understand that they're in a good position. We've got to stay healthy and get along and have fun, so if we can continue to do that, we'll see what happens."
Niwot boys battle "first-race nerves"
Star senior Cruz Culpepper won't be running in many regular season races for the Cougars, but Christensen isn't sure the rest of the group is going to miss the reigning state champion that much. What they lack in experience, they make up for in speedy newcomers, including another with an elite running lineage. Indeed, Christensen's main challenges with the boys in 2019 probably won't have much to do with bringing down their times.
"With Cruz not racing until October, it's going to look a little different. And part of that's just because he's proven he knows how to race. A lot of our boys still haven't figured out cross country, so they need to race a lot. So once they figure it out, we'll be dangerous. The girls were in the same situation last year, and they figured it out, and our guys can do the same thing this year."
That was almost certainly the operating dynamic at the VistaNation 2Mile, where the Niwot boys' fifth place finish fell a little short of the coach's expectations.
"The guys kind of immediately showed that the maturity and trust in each other wasn't quite there when the gun went off," he said. "I think they were a little intimidated. We had some great performances, they just didn't pack up like we've been practicing."
The Cougars were paced by junior Joaquin Herrera, who finished 18th overall with a time of 10:43. Next came senior Jack Kenkel, a standout for Niwot during track season, who was 23rd (10:49). Junior Grayden Rauba (10:51), senior Luke Robinson (10:57), and senior transfer Michael Carpenter (11:41) rounded out Niwot's top five.
Not that it was all bad news, Christensen said. "But we still had five guys finish in front of where our fourth runner has ever finished in that race, and we've had some pretty good teams. And if you throw Cruz in there, it means we have six guys ahead of where our number four usually is."
Again Christensen was heartened by the performance of his youngest runners, who are among the most competitive in the state. Like the girls, there was a healthy dose of Niwot in the boys freshman/sophomore top-10, including a few who outperformed their varsity counterparts.
"We had the individual winners in four of the six races, which was huge," Christensen said. "Zane winning was fun for him, and he didn't really have to push hard, so he's going to be one of our top five."
The "Zane" in question is sophomore Zane Bergen, one of Niwot's returning state runners. His winning time of 10:46 was Niwot's second fastest of the day. Following him were sophomore Joey Hendershot in fourth (11:15), and sophomore Isaac Robinson in ninth (11:35).
The fastest freshman on the day was Niwot newcomer Carlos Kipkorir Cheruiyot, who was seventh overall (11:29) in the underclassmen's race. Like Culpepper, Cheruiyot brings some ultra competitive genes to Colorado high school running. His mother, Edna Kiplagat, is a world-class marathoner, with wins in New York, London, and Boston, where she was also runner up in April. She also competed in the 2012 Olympics for her native Kenya, finishing 20th.
"We know with Carlos, and his career and gene pool, as he runs more, he's just going to be similar to Cruz, and it's exciting for sure."
As for Culpepper's decision to focus on training rather than racing during the regular season, Christensen said his star is self-aware and disciplined enough to make that call. He is also juggling concerns about his running future. Over the summer, the senior had recruiting visits from coaches at Michigan, CU, Northern Arizona, Washington, and Oregon.
"Having Olympic parents, he knows too much. He's very thoughtful and mindful of what he's choosing in terms of his hard days and it's been fun to work with him as far as taking that next step, and trying to be ready for college. So our mileage and everything has gone up more than we originally planned for him, but after talking to all of the college coaches, he knows where he needs to be to make that transition."
Culpepper cheered his team on from the sidelines at Vista, and Christensen said it gave his standout a unique perspective.
"I think it was helpful for Cruz to watch, and he's grown physically so much and matured mentally. It's a confidence booster for him, knowing they ran basically what he did last year."
Up next for the Cougars is the Liberty Bell Invitational at Heritage High School on Sep. 7, followed by the RE-1J District meet at Sunset Golf Course on September 11.