Niwot hires Kevin Clark as new athletic director
Courtesy Photo
On Feb. 11, Niwot High principal Eric Rauschkolb announced that the school has selected Loveland High's Kevin Clark to replace outgoing assistant principal and athletic director Chase McBride, who is leaving for a position with the St. Vrain Valley School District at the end of the school year.
"After an extensive search, we are pleased to inform you that a recommendation will be made to the Board of Education that Mr. Kevin Clark be hired as the new Assistant Principal and Athletic Director of Niwot High School," read a message to parents from the school. "Mr. Clark was chosen from a large group of highly-qualified candidates – a true testament to the reputation and strength of Niwot High School and St. Vrain Valley Schools."
Clark received a Bachelor's degree at CSU and began his career in education nearly 20 years ago, first as a teacher and coach at Harrison High in Colorado Springs, followed by a longer stint at Mountain View in Loveland. He subsequently received a Master's Degree in Sports Management from Pennsylvania State System of Higher Education then went back to CSU for a Principal Licensure. He is currently in his third year as the AP/AD at Loveland, which, like Niwot, has an International Baccalaureate program.
Wherever Clark has gone, athletic success has followed. His tenure at Loveland has included state championships in girls golf (2017) and football (2018), as well as numerous individual titles, notably in wrestling and girls swimming. At Mountain View, a frequent Niwot opponent in the Northern Conference, he coached the girls cross country team to a state title in 2014 and the boys to a state track and field title in 2016. According to Rauschkolb, that puts him in elite company.
"Besides Chase McBride, he's probably the most qualified athletic director in the state of Colorado," he said. "So the fact that we were able to get him speaks volumes about the strength of the St. Vrain Valley school system and Niwot High School that we can attract a candidate as strong as Kevin."
Clark said he was attracted to the opening at Niwot due to the school's reputation for "excellence," especially in academics. However, he added, that sometimes can be mistaken for a less than excellent athletic reputation, which he feels prepared to combat.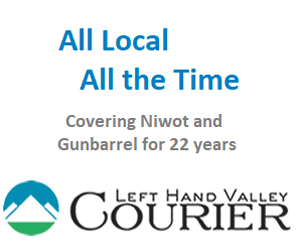 "In the state of Colorado, it seems like oftentimes you have schools that you'll say are a football school or a wrestling school or a baseball school, and one of the neat things about Niwot is that they have some sports that are on top right now," he said. "But, just like most high schools, they have a dip in some sports right now, and you just hope over time with a solid foundation that we get those programs turned around and going in the right direction."
The incoming AD doesn't plan to make any major changes to Cougar athletics, at least initially. For now, Clark said he plans to prioritize "building relationships" with students and staff members throughout the entire school. "As part of the athletic director role, I'm also an assistant principal, and it's important to pull my weight on the assistant principal side, and find out where I fit in that leadership team."
That said, he is looking forward to piloting a boys volleyball program at Niwot next year, and pointed to Loveland's successful girls wrestling program, which just wrapped its first pilot season with a second-place finish at state on Feb 9. He is also looking forward to CHSAA's foray into eSports, or competitive video games, which will launch a pilot season next fall.
"It's just another way to reach student athletes who may not be involved or have an identity at school," he said. "If there's a new opportunity for them and it's a way for them to connect outside the classroom in an extracurricular, then I'm all for it. It's definitely different, and it gets you thinking different, which keeps you young and keeps you fresh."