Letter to the Editor, Community Workshop
To the Editor:
It has become painfully apparent that the Boulder County Land Use Staff is biased. This bias has compromised the safety of our 2nd Avenue sidewalks for 25 years.
Unfortunately, the Community Meeting on Monday night was not productive, and it soon became clear that the focus was an exercise designed to steal property rights from the commercial property owners subject to the moratorium. The Land Use Staff orchestrated the night to address only the predetermined topics that Land Use has identified as necessary to limit the rights of commercial property owners on 2nd Avenue. Not surprisingly, no consensus was achieved. Land Use Staff and an outside consultant proposed many different options to downzone the commercial property, with no explanation of the costs to the commercial property owners or impact to the town. The fragile nature of doing business in Niwot was brought home by the announcement that Treppeda's Restaurant had closed over the weekend. No mention was made of the fact that this downzoning is in opposition to the sustainability and economic goals of the Boulder County Comprehensive Plan.
We asked that Pedestrian Safety be an exercise on its own, but our request was denied and Safety was largely ignored by staff. It was only addressed in small groups by business property owners.
Exercise 1- Lot Access and Alley Treatment: Two of the three options proposed by Land Use suggested one-way traffic. THIS IS A DEAD-END ALLEY! It is a standard platted two-way public alley right of way! The only way to get one-way traffic to work is to condemn a portion of a commercial property owner's property to continue the alley to Niwot Road or 2nd Avenue. The condemned portion would be a minimum of 2,800 s.f., and the County would be required to compensate the property owner, a ridiculous waste of tax dollars. In one of the groups, when staff was asked why they were proposing a one-way alley when this alley is a dead end, participants were told that the purpose of this exercise was not to solve the problem, only to see what the attendees 'preferred'. We have a perfectly adequate zero cost solution staring us in the face, use the alley as it was intended! The only option offered by Staff that allows commercial property owners full access to the existing platted alley right of way also requires a down-zoning of the property increasing the rear yard setback.
The safety issues that currently exist with 2nd Avenue cars crossing paths with pedestrians, which would be exacerbated by continuing to limit use of the alleys, were not addressed by Land Use Staff.
Exercise 2- Rear Lot Conditions: Four options were presented. Option 1 was to leave conditions as they are currently zoned. No explanation was given to state that this was the same zoning that is used successfully in the first block. No statement was made that the same rear yard setback has been in place for over 50 years. Land Use failed to explain that any increase in setback is a limit to the development potential of the commercial property and takes away existing property rights from the commercial property owners. The diagrams presented showed absolutely absurd and impossible building massing on the properties, ignoring the parking and access requirements, frightening neighbors and sending the false message that action must be taken to limit development. Denver was mentioned as a municipality who uses 'bulk-plane' strategies, but it was not mentioned that Denver does not apply these strategies to commercial or mixed-use properties, only to residential properties. Options 2, 3 and 4 all proposed downzoning of the commercial property.
Exercise 3-Front Lot Condition and Land Use Mix: Many groups suggested that any increase in rear yard setback should be paired with an identical decrease in front yard setback. This exercise attempted to determine a numerical limit to the amount of residential use allowed in a mixed-use development. No consensus was achieved. The reality is that every site is different, and the existence of an historic commercial building on a site places constraints on any suggested percentages. This exercise attempts to solve a problem that does not exist.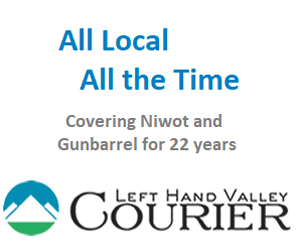 Bradford Heap spoke to make sure that the Land Use Staff understood that his Colterra project is on hold due to the moratorium and parking constraints. The parking area that has already been purchased with LID funds should be allowed to go forward immediately. Niwot businesses have been begging for additional parking for years, but our needs are ignored by Land Use Staff.
Near the end of the meeting, we all heard about Treppeda's closing over the weekend. The oxygen left the room. This is a huge loss for a commercial district that is already reeling from the impact of the moratorium. The NRCD is currently dealing with Colterra closed, Treppeda's closed, Powderkeg closed and the space vacant, the Tribune building empty, vacancies in many locations and a moratorium that continues to cast a cloud over our town. As commercial property owners who have a very clear understanding of the bias of Boulder County Land Use Staff, we want Niwot residents to understand the consequences of the moratorium, the cost to pedestrian safety inherent in limiting alley use, and to hopefully share our vision for a vibrant and thriving commercial district.
Respectfully,
Cotton Burden, RLET Properties Niwot and Burden Incorporated
Tim and Mary Coonce, Porchfront Homes
Tony Santelli, NBA President and Niwot Tavern owner
Cornelia Sawle, owner Niwot Inn
Bob Von Eschen, Vons Colorado
Bernadette Reed, owner Slater Building
Anne Postle, Osmosis Art and Architecture, owner 240, 280 and 290 2nd Avenue.
Brian Bair, Mass Equities
Bradford Heap, Colterra Food and Wine