Niwot shows improvement in home opener
Jocelyn Rowley
Niwot Head Coach Jeremy Lanter didn't necessarily like the numbers he saw on the scoreboard after his team's home opener against Greeley Central on Aug. 30, but he did like the numbers he saw on the field during the game.
Despite a two-touchdown loss, the Cougars improved in virtually every offensive and defensive category between weeks one and two, a trend the coach expects to continue.
"They're working so hard on every aspect of the game," Lanter said after the Cougars' 20-6 loss to the Wildcats in front of a boisterous home crowd at Everly-Montgomery Field. "From how they prepare, how they go through a practice week, and how they focus before pre-game, everything's moving in the right direction….If we keep making those improvements every week, we're going to be good, we're going to be tough."
The improvements from week one were particularly striking on offense, where Niwot found some success both on the ground and in the air. Sophomore quarterback Ayden Bartko had his most productive game to date, going 11-for-30 for 96 yards, including a 43-yard pass to Julian Bell, followed by a nine-yard bootleg pass to Max Roberts for the first touchdown of his career.
It was also a career-night for second-year running back Liam Flanagan, who had 76 yards on 18 carries, his longest an early 18-yard scamper into Wildcats territory. In the first two games of 2018, the junior has 165 all-purpose yards, nearly tripling his 2017 total.
Offensive coordinator Stan Matsunaka was "encouraged" to see his prediction of a Cougar rebound in week two come true, and, like Lanter, expects to see the team continue to make weekly progress.
"Our offensive line started moving off the ball," he said, crediting improved line play for the increase in productivity. The Cougars drove into Greeley Central territory repeatedly, and made it into the red zone twice. "It's the second week, and they feel like they've actually seen the game speed now and, again, they're so close….They should be encouraged, too."
Meanwhile, Lanter was impressed with something he didn't see from the Cougars' offensive line.
"This may have been the first Niwot game I've been a head coach at where we didn't fumble a snap and we didn't mess up a hand-off," he said. "Our kids did such a good job of adjusting to things as the game was going on, those things weren't issues for us this week. When you're limiting the amount of turnovers you have and creating more opportunities, you're giving yourself a chance."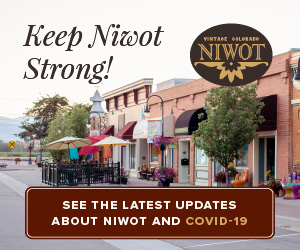 The Cougars' defense also made clear strides over the previous week, showcased by senior DaeMonte Terry, who came up with big plays repeatedly for the Cougars, including a key fumble recovery in the fourth quarter. He also had four tackles on the night, and was the Cougars' top kick returner, with 69 total yards.
"My coach told me if we make mistakes, we make mistakes," Terry said, referring to the lessons learned after their Aug. 24 loss to George Washington. "We made mistakes this week, but we tried to let it roll off, and it worked. We put it behind us and just moved on to the next play."
Other impact players on defense included senior Cory Rathburn, who had another eight tackles for the Cougars, bringing his team-leading total to 15, and Lucas Steiner, who had four tackles in his debut. Both were instrumental in containing Greeley Central on the ground. Senior Zack Vigil had an interception in the first quarter, and junior Erik Fernandez blocked a late Wild Cats punt.
Meanwhile, on special teams, senior Josh Palomares was unavailable in the first half due to a conflict with his soccer duties, but had two fourth quarter punts for 30 yards. Senior Jonathan Franco stepped up in his absence, averaging 35 yards on four punts.
To be sure, the 2018 Cougars are still a work in progress. Lanter acknowledged that the team's inexperience will continue to cause "mental mistakes," such as an ineligible receiver penalty that negated a Niwot touchdown in the second quarter. He also hopes to see gains in the defensive backfield, which has been vulnerable to deep runs and throws.
At the same time, both Lanter and Matsunaka said that the team is due for a breakout performance at any time.
We're right there," Lanter said. "I tell the kids this all the time, the analogy of pounding the stone. You don't know when that stone is going to split, but you can see that it's about to."
Jocelyn Rowley