Track & Field: Niwot boys run down elusive Northern League title
Jocelyn Rowley
For a sure sign that the Niwot boys track team is having a special season, look no further than the Northern League championships, held May 4-5 at Everly Montgomery Stadium in Longmont. Behind surprisingly strong performances in the sprints and jumping events, the Cougars scored 151 team points to claim the 2018 conference title, a feat Niwot head track coach Maurice Henriques called "a great accomplishment for our program."
"Being here for eight years, we've never a Northern Conference meet," he said. "I'd have to go back in school history, but I can't recall boys ever winning it in track."
A number of Niwot boys turned in memorable performances during the two day meet, perhaps none moreso than sprinter Emrick Wells. The tenth-grader nabbed a pair of individual second-place finishes for the Cougars, in the 100M, with a time of 11.41 seconds, and the 400M (50.82). His 23.08 in the 200M was his second fastest time ever at that distance, and good for fourth place overall. He also ran the opening leg of Niwot's first-place 4x100M relay (44.20).
Senior Alex Herman took third overall in the in the 100M (11.44) and 200M (23.04), and also ran a leg of both the winning 4x100M and runner-up 4x200 relays. Now in his fourth year with the team, Herman attributed the Niwot boys' newfound success to the positive changes in the team's culture over the past few seasons.
"We're kind of tired of always being in last place," he said after helping his team clinch the 4x100M relay title. "Everyone now wants to win, and we have great coaches helping us, and we just work really hard."
Like his team, Herman has also had a breakout season in 2018 thanks at least in part to a change in outlook. At the Stutler Twilight Invitational on April 27, he took second overall in the 100M with a personal record of 11.14, and eighth in the 400M with another personal best (51.90).
"I wasn't super-dedicated my freshman and sophomore year," Herman said. "I wish I could get those years back, because who knows how good I would be if I had been committed."
Elsewhere for the boys, sophomore Milo Ostwald emerged as one of the Northern League's most promising jumpers after top-ten finishes in the long, triple and high jumps during the meet. His mark of 20'6" was good for second place overall in the long jump, and he finished tied for eighth in the high jump (5'8.5"), but it was his triple jump of 41'7" that got his coach's attention.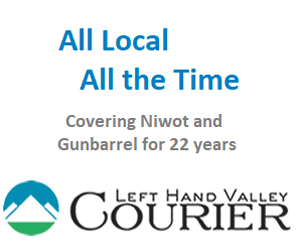 "Regardless of whether he placed, that's a great jump," Henriques said of the rangy Ostwald, who took first place in his first-ever triple jump at the JV Championships on April 25 with a mark of 39'8.5". "As soon as he figures it out, he's going to be pretty good,"
Over on the girls side, senior Mary Gillett and freshman Taylor James combined for five individual titles and a trio of second place finishes to lead Niwot to another commanding team win and the 2018 Northern League Championship. Overall, the Niwot girls took first or second in 13 of the meet's 18 events to score 245 team points, more than double that of runner-up Longmont at 122.
Gillett took first in the 100M (12.48), 200M (25.10), and 400M (56.59) races, and second in the long jump (16'10"), while James won the 800M (2:21.39) and 1600M (5:10.12), and took second in the 400M (56.77), and high jump (5'4.5").
"I don't normally run the mile, so I'm surprised that I was able to come out here and run a fairly good time," the ninth-grader said after overcoming Thompson Valley sophomore Kenadi Krueger in the last 50 meters to win by more than a second. Her title-winning performance came in just her second 1600M race of the season "I owe it to my coaches; they put me in it, and I think that was a great choice."
For Henriques, James' abundant athletic talent makes her a potent weapon for the Niwot girls whether in a sprint, distance, or field event.
"She happens to be pretty good in cross [country], but she can also high jump 5'6"," he said. "We'll have to do some science to see what's going on there, because we don't want to mess it up, but she's something special."
Senior Mackenzie Fidelak came up big for Niwot, with a win in the 100M hurdles (15.87) and third-place medals in the long jump (15'11.5") and 400M (59.36). Senior Sophie Grant took second in the triple jump (34'6.5") and fourth in the long jump (16'10"), while junior Erin Carroll posted a season-best mark of 9'5" in the pole vault, which was good for fourth place. Senior Joelle McDonald and junior Maggie Smith went third and fourth in the 3200M, followed by freshman Lucca Fulkerson (11:51.59) in sixth. Fulkerson also took fifth in the 800M (5:21.86).
Juniors Erika Timbang and Kayla Nowlin, along with sophomores Margot Diasabeygunawardena and Kelia Portis, led the girls to wins in three of the five relays, including a sub-50 second time in the 4x100M. A botched handoff early in the 4x200M was seemingly redeemed by an unlikely comeback, but Niwot's second-place finish was ultimately nullified by disqualification. Portis also took second in the 300M hurdles (47.21), and fifth in the triple jump (33'10.75")
The Cougars will be back at Everly-Montgomery Field for the St. Vrain Invite on May 11, their final regular season event and the last chance to post a qualifying time or distance ahead of the Class 4A State Meet on May 17-19 at Jeffco Stadium.
5/4-5/5 — Northern League Meet, Everly-Montgomery Field
BOYS
Team scores — Niwot 151, Silver Creek 129.5, Longmont 123, Centaurus 96, Greeley Central 67.5, Thompson Valley 63, Mountain View 47, Northridge 23.
(Niwot scores)
100m — 2. Emrick Wells, 11.41; 3. Alex Herman, 11.44; 5. Byron Holmes, 11.62.
200m — 3. Alex Herman, 23.04; 4. Emrick Wells, 23.08; 6. Byron Holmes, 23.42.
400m — 2. Emrick Wells, 50.82; 3. Cruz Culpepper, 51.84; 7. Nolan Johan, 53.64.
800m — 2. Oskar Wells, 1:59.08; 4. Kamran Elahi, 2:01.56; 12. Ares Reading, 2:06.46.
1,600m — 4. Ares Reading, 4:30.43; 7. Oskar Wells, 4:32.95; Kamran Elahi, 4:42.96.
3,200m — 16. Benjamin Bi, 9:59.64; 9. Ethan Steiner, 10.09.93; 10. Jack Volf, 10:16.42
110 hurdles — 5. Jensen Douillard, 16.88; 8. Nicholas Grant, 17.56; 11. Magnus Lehan, 20.41
300 hurdles — 13. Jensen Douillard, , 41.13; 7. Nicholas Grant, 44.63; 11. Magnus Lehan, 47.08
4x100m relay — 1. Niwot (Herman, Douillard, Wells, Holmes) 44.20
4x200 relay — 2. Niwot (Herman, Culpepper, Douillard, Holmes), 1:32.62
4x400 relay — 3. Niwot (Johan, O. Wells, Kenkel, Culpepper) 3:31.29.
4x800 relay — 2. Niwot (Bi, Kenkel, Steiner, Volf), 8:12.81
Triple jump — 4. Milo Ostwald, 41-7; 6. Daniel Thomas, 38-11.25; 13. Cameron Carlson, 36-.25
High jump — 4. Cameron Carlson, 5-10.5; 8. Milo Ostwald, 5-8.5
Long Jump — 2. Milo Ostwald, 20-6; 7. Nicholas Grant, 19-8.5; 15. Daniel Thomas, 17-4.5
Shot Put — 11. Max Towlen, 38-4; 17. Brandon Hult, 30-6
Discus — 2. Max Towlen, , 127-1; 13. Brandon Hult, 103-8
Pole vault — 7. Rayan Elahi, 11-00.
GIRLS
Team scores — 245, Longmont 122, Silver Creek 116, Thompson Valley 73, Mountain View 68, Centaurus 48, Greeley Central 44, Northridge 16.
100m — 1. Mary Gillett, 12.48; 3. Kayla Nowlin, 13.16; 4. Julea Trank, 13.20
200m — 1. Mary Gillett, 25.10; 2. Mackenzie Fidelak, 26.11; 3. Julea Trank, 26.42.
400m — 1. Mary Gillett, 56.59; 2. Taylor James, 56.77; 3. Mackenzie Fidelak, 59.36.
800m— 1. Taylor James, 2:21.39; 2. Samrawit Dishon, 2:22.46; 3. Erika Timbang, 2:24.70
1600m— 1. Taylor James, 2:21.39; 4. Samrawit Dishon, 5:18.47; 5. Lucca Fulkerson, 5:21.86
3,200m — 3. Joelle McDonald, 11:36.73; 4. Maggie Smith, 11:39.24; 6. Lucca Fulkerson, 11:51.59
100m hurdles — 2. Mackenzie Fidelak, 15.87; 2. Sophie Grant, 15.97; 4. Elise Gillett, 16.98
300m hurdles — 2. Kelia Portis, 47.21; 3. Elise Gillett, 48.63; 4. Margot Diasabeygunawardena, 49.59
4x100m relay — 1. Niwot (Nowlin, Timbang, Trank, Crall) 49.92;
4x200 relay — DQ.
4x400 relay — 1. Niwot (Smith, Timbang, Portis, Diasabeygunawardena) 4:00.50;
4x800 relay — 5. Niwot (Wilcox, Finley, Bottke, Lennert), 10.54.59
Long jump — 2. Mary Gillett, 16-10; 4. Sophie Grant, 16-4; 6. Mackenzie Fidelak, 15-11.5
Triple Jump — 2. Sophie Grant, 34-6.5; Kelia Portis, 33-10.75; 9. Margot Diasabeygunawardena, 32-9
High jump — 2. Taylor James, 5-4.5; 9. Elise Gillett ,4-6.5; 10. Erin Carroll, 4-4.5
Pole Vault — 4. Erin Carroll, 9-5; 7. Nicole Sims, 8-11; 8. Valorie Myhre, 7-5
Discus — 19. Madison Schoeder, 65-5
Shot put — 13. Megan Herring, 26-3; 14. Marlow Baines, 26-3; 21. Sara Soto, 22-0
Jocelyn Rowley