Chocolate company lifted to new heights under new ownership
Vicky Dorvee
Life is beyond sweet these days for Brandon Busch. A graduate of Johnson and Wales Culinary School, Busch acquired Concertos Chocolates in Gunbarrel just over six months ago and powered through his first official holiday season in the gourmet chocolate industry.
Busch has renamed the business Lift Chocolates. "Lifting" resonates with Busch who served nearly 10 years in the Marines as a heavy lift helicopter pilot. After his time in the service in Hawaii and Maryland, and stints in Iraq and Afghanistan, Busch returned with his wife and children to his home state of Colorado and enrolled in cooking school.
Initially planning to focus on pastries, Busch worked at a couple of area bakeries after culinary school. "I've always loved to cook and bake" he said. Feeling the need to have a business of his own and then hearing about Concertos being on the market, he felt compelled to move in a different direction…toward the art of chocolate making.
Not having to start a business from scratch, the facilities and equipment on hand, an established customer base, and already well-loved products gave Busch the take-off he needed to become an entrepreneur.
Concerto's founder and owner of 19 years, Chris Widlar, and all but one former employee stayed onboard after Busch purchased the entity. "Chris is integral to everything we are doing and is willing to help me every step of the way," Busch said. Clorisa McKeta joined the team, leaving her job as a sous chef to become a chocolatier. Busch's wife Jacquelyn, a professional marketing strategist, is the packaging and branding expert for the company. Busch considers himself the "lucky guy in the middle of the creative forces" at Lift.
Far from the famous I Love Lucy chocolate factory scene where nondescript blobs of chocolates glide by on a conveyor belt, Lift's confections are expertly molded, filled with whisked ganache, enrobed, hand-painted, air-brushed, and some delicately embellished with edible bling. Combining culinary herbs with fruits, imagining and then creating the perfect color for decorations and, like fine wine makers who select the spot-on grape variety, sourcing chocolates that present the precise percentage of cocoa and mouthfeel is where this team excels.
Busch said the three product lines within the company are: Concertos in Chocolate, the original line of European-style truffles and premium chocolates carried by Whole Foods and Pharmaca stores; all-natural, newly rebranded snackable barks and bars called Boulder Chocolates, recently picked up by Whole Foods regionally; and newly developed Lift Chocolates, which are more contemporary and high-end molded pralines designed for sales in luxury department stores such as Nordstrom's.
"The redesign of Boulder Chocolates really represents Boulder's quirky personality, and I feel like it's the one that will really get recognition in Boulder and beyond," Busch said.
Sales to wholesale entities are 80 percent of Lift's business. Remaining sales come from walk-in customers and online buyers. When asked about what sells best, Busch said, "Health-conscious Boulder customers prefer dark chocolate treats 70 percent of the time over milk chocolate."
Busch is quick to be positive and thankful for his sweet dream team. While Widlar and McKeta are honed in on the product design and production for the business, Busch focuses his attention on day-to-day operational and logistical matters, and on growing the business. Busch's other big commitment is to the US Marine Corps reserves. His time working as a forward air controller and at training events can take him away for weekends and upwards to 10 days or more at a time.
Busch reflected on buying the business, saying, "I feel like this was a goal of mine, and now having gotten here, I just want to make it the best it can be." Coming up with imaginative gourmet chocolate treats is a constant in the industry. Next up is the most chocolate oriented holiday - Valentine's Day - and delicious specialty chocolates speaking the language of love will soon fill Lift Chocolate's shelves and be sent to nearby retailers.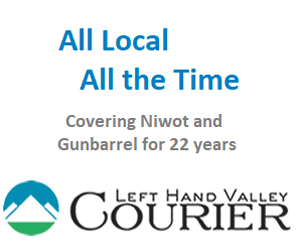 Lift Chocolates may be bought at their chocolate shop located at 6395 Gunpark Drive, Suite R, Gunbarrel, CO 80301 and online at http://www.LiftChocolates.com or at Whole Foods and Pharmaca stores.
Vicky Dorvee