Outdoor Craftsmen to help fund connectivity project
The Niwot Business Association's plans to create a visitor attraction connecting Old Town and Cottonwood Square received a big boost late last year when local businessman Scott Deemer of landscape design firm Outdoor Craftsmen, Ltd., agreed to donate both labor and materials towards the creation of a public art space on the northeast corner of the Cottonwood Park West neighborhood.
Construction of the park-like area could begin as soon as late January, according to NBA's Chuck Klueber, who has been working with property owners Cottonwood Park West Homeowner's Association (HOA) on plans to develop the area since last summer. He added that Deemer's donation more than doubled the size and scope of the original design, which was completed last August with a budget of just over $20,200.
Deemer, who moved to Niwot with his family in 2000, said that contributing to the project is a way for him to share his success with his adopted hometown.
"I opened my business in 2004, and it has flourished, and that has a lot to do with the homes in the Niwot area," he said. "I thought something like the connectivity project would be a way that I could be generous with a little bit of my good fortune and create something of beauty for the whole community to enjoy."
After languishing for years, the connectivity project was revived last summer by a new leadership team at the HOA, which was tasked with implementing the neighborhood's long-term beautification goals. According to board President Nicholas Whitaker, earlier HOA concerns about both the short-term and ongoing costs of developing the space were allayed by the enthusiastic response of local businesses and civic organizations, which quickly stepped forward with offers of monetary and material support.
"After many months of careful consideration of the options, the current HOA was able to come to consensus around what was possible, and with the help of various community partners, bring this project to life," Whitaker explained. "It really is a community effort, and one that couldn't have been possible without the support of everyone involved."
Deemer made his offer to the NBA and HOA shortly before Thanksgiving — after Outdoor Craftsmen was asked to bid on the project. Deemer, an NBA member, was involved in the early stages of the design of the Niwot Children's Park, and his firm has provided landscape design services for a number of local businesses.
Deemer proposed a number of upgrades to the original design, including additional seating areas, a flagstone walkway, and display space for up to eight sculptures throughout the expanded planting beds. An artist by formal training, he hopes to see Niwot become a destination for artists and art-lovers alike.
"My passion is art … I want to see a high level of quality and refinement and discernment that really distinguish Niwot as a cultural and very livable community that has an artistry about it," he said.
Whitaker acknowledged that the HOA wasn't sure what to make of Deemer's proposal initially.
"The reaction was cautious excitement at first, as Scott's offer was so generous," he said. But the board quickly warmed up to his vision, after hearing directly from Deemer.
"Our core concerns have always been about sustainability, long term maintenance, conservation of the limited water available, the aesthetic value of the design, and finding reliable funding options," he said. "Outdoor Craftsmen was able to deliver a design that met all of those needs, while also providing a centerpiece for the area that reflects the rich arts community and aesthetic appeal of the town which Cottonwood Park West is proud to be a part of."
Outdoor Craftsmen submitted its final design to the NBA last week, and Deemer said hardscaping and other early construction could begin at the end of this month, providing "all the stars align." He hasn't pinned down a finish date, but said that all building and planting should be completed sometime in the spring.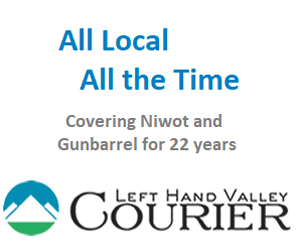 As of yet, no specific art pieces have been chosen for the space, but Deemer said it shouldn't be hard to find local creators to fill either permanent installations or rotating exhibits. There has also been talk of preserving Eddie Running Wolf's tree sculptures and installing them in the space, but there are no formal plans at this time.
There are also no formal plans for future enhancements on the site, but the NBA, HOA and Deemer all hope to see the area blossom into a true community gathering place.
"With gracious partners like the LID, NBA, Rotary, Boulder County, and neighbors like Outdoor Craftsmen, I'm sure that we will be able to build off of what we've started here in order to bring our little corner of Niwot up to a standard that we can all be proud of," Whitaker said. "The Cottonwood Park West HOA is grateful for the opportunity to work with its Niwot neighbors, and all of the local organizations who pitched in to make this possible. Niwot is a special community and we're excited to help make it as beautiful and desirable a place to live and work as possible. It's only through cooperation and dialogue that projects like this can flourish, and we're happy to be a part of it."