Hoover's hot streak lifts Cougars
Niwot golfer Jack Hoover isn't exactly sure what went wrong during his round at Niwot's home tournament at Twin Peaks Golf Course on Aug. 22, but he is committed to preventing a repeat. After going +12 on the front nine, including a triple-bogey on the seventh, followed by consecutive double-bogeys on the next two holes, the junior finished the day at +16, putting him 13th overall, his worst finish in a league event so far this year.
But in the three tournaments since then, Hoover has been on fire. Two days after The Disaster at Twin Peaks, Hoover carded two birdies and nine pars on his way to a second-place medal at Northern League Event #5 at Sunset Golf Course in Longmont. He followed that up with a second-place finish (+1) at League Event #6, held Aug. 29 at Quail Dunes in Fort Morgan, and a first-place tie at the Walt Clark Invitational at the Olde Course two days later. When asked how he was able to bounce back, the lanky right-hander said it was a relief to get the bad round out of his system.
"It was oddly reassuring, because I knew that I couldn't play any worse than I did at Twin Peaks," Hoover said. "Ever since, I've been able to compose myself a little more. I'm focusing on taking the high numbers off and being consistent. Consistency is the key."
Hoover's success has lifted Niwot's number-two golfer Andrew Elliott. At the Dale Douglass, the junior shot three birdies and 10 pars and ended the day at +6, which was good for sixth place, and helped lead the Cougars to third place overall, their best team finish so far in 2017. His 80 at the Olde Course two days later landed him in eighth place, for his second consecutive top-10 finish.
Niwot head coach Ed Weaver wasn't concerned at all about Hoover's tough round in Longmont. In fact, the coach was pleased to see the way his number one golfer handled the adversity. As for Elliott, Weaver said the junior "is playing more focused golf, which will result in lower scores."
As for his third, fourth and fifth golfers, Weaver said they seem to have overcome a mid-season plateau. Following the league events in Longmont, the coach worried that he wasn't seeing much progress from his young golfers.
"I was hoping this week would be a transition week," said Weaver after the team's disappointing seventh place finish at Sunset on Aug. 24. "I was hoping we'd start moving forward faster."
This week, however, the team snagged a third-place medal at the Fort Morgan Invitational on Aug. 29, and Weaver sees better things ahead for Niwot golf.
"Things are starting to gel for the team as a whole," he said. "Andrew and Sam are ready to come alive, and Luc and Luke are getting better. It's been fun to see everyone's progress."
Hoover and the Cougars were at Indian Peaks Golf Course in Lafayette for Northern League Event #7 on Sep. 5, and will wrap up league competition on Sep. 12 with League Event #8 at Ute Creek.
Northern League Event #4, Twin Peaks GC, Aug. 22
Team Scores — Thompson Valley 325, Mountain View 336, Longmont 356, Centaurus 371, Niwot 375, Northridge 379, Silver Creek 388, Greeley Central, Fort Morgan
Niwot Individuals — t13. Jack Hoover, 86; 18. Andrew Elliott, 88; 26. Sam Hoover 95; 32. Luc Blondeau 100; t36. Luke Martinez, 106
Northern League Event #5, Sunset GC, Aug. 24
Team Scores — Thompson Valley 325, Silver Creek 338, Mountain View 339, Northridge 342, Centaurus 345, Longmont 350, Niwot 380, Fort Morgan 381, Greeley Central
Niwot Individuals — 2. Jack Hoover, 75; 29. Sam Hoover 94; 36. Luc Blondeau 104; t39. Luke Martinez, 107
Dale Douglass Fort Morgan Invitational (League Event #6), Quail Dunes GC, Aug. 29
Team Scores — Mountain View 330, Silver Creek 338, Niwot 339, Fort Morgan 353, Longmont 353, Brush 363, Centaurus 365, Sterling 370, Vista Peak 375, Northridge 379, Yuma 411, Holyoke 424, Thompson Valley, Greeley Central
Niwot Individuals — 2. Jack Hoover, 73; 6. Andrew Elliott, 78; 18. Sam Hoover 87; t49. Luc Blondeau 101; t55. Luke Martinez, 104
Walt Clark Invitational, The Olde Course, Aug. 31
Team Scores — Fossil Ridge 238, Thompson Valley 240, Loveland 243, Northridge 250, Legacy 250, Niwot 251, Mountain View 255, Silver Creek 259, Monarch 265, Berthoud 266, Longmont 274, Mountain Range 279, Fort Morgan 281, Boulder 281, Greeley Central 282, Eaton 292, Poudre 304, Broomfield 3014, Lakewood 304, Centaurus 312, Rocky Mountain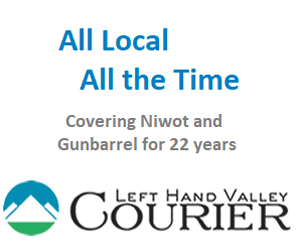 Niwot Individuals — t1. Jack Hoover, 74, 8. Andrew Elliott, 80; t46. Sam Hoover 97; 92. Luke Martinez, 118, 93. Luc Blondeau 123