Cougar boys take 2 of 3 in tourney
Before last weekend, Niwot senior guard Jackson Kolakowski was a reliable yet unassuming presence in the Cougar offence. With a team-best 3.4 assists per game, he seemed content to create chances for his teammates, rather than take the flashy shots himself.
But at last weekend's Rough Rider tournament at Roosevelt High, Kolakowski grabbed a bit of spotlight for himself. In three games, he scored 27 points, including 18 in the Cougars' 2-overtime 79-70 victory over Pueblo County on Saturday. He also hit a key three-pointer in the final seconds of Friday night's overtime win against Steamboat Springs.
"Hopefully, we will continue to see an aggressive Jackson on offense" said Head Coach Preston Hardy. "If we can get offensive production from him, we will be hard to beat."
The Cougars' three wins in four games in the first week back at school lend weight to Hardy's claim.
On Jan. 3, Niwot collected its first conference victory of the season, with a 63-48 win over Greeley Central. Senior Adam Barber picked up where he left off before the break, leading the Cougars with 23 points and 9 rebounds. Junior Max Towlen, subbing for the injured Donato Rios, hit three two-pointers in his varsity debut.
At the snow-day-shortened Roughrider Tournament, held Jan. 6-7 at Roosevelt High School, the Cougars grabbed two more wins, both high-scoring double-overtime thrillers.
On Friday, Niwot edged the Steamboat Springs Sailors 64-62, in a game that could easily have gone another direction. Led by sophomore Thomas Bounds and Kolakowski, the Cougars scored 35 second-half points, to tie the game at 49 at the end of regulation.
The score stayed close the first and most of the second overtime periods, and was tied at 62 in the final seconds when Niwot junior forward Alec Helgeland stole a Steamboat inbounds pass and scored the easy lay-up as time expired.
Back at Roosevelt on Saturday morning, the Cougars dropped a close game (49-47) to the Skyview Wolverines, but closed out the weekend with the victory over the Pueblo County. Hardy was pleased with this team's quick start to the new year.
"Competing with effort, that was our focus coming out of break," he said. "I believe the boys did a good job of that this past weekend."
Clearly, the shots are starting to fall for the Cougars. In their four games last week, Niwot averaged more than 63 points, up from 47 per game in December. At the same time, Bounds has proved himself one of Niwot's top offensive threats. He scored a season high 29 points against the Hornets, including the game-tying three-point shot to send it into overtime. He then went on to score 14 of the Niwot's 24 overtime points. In the four games since returning to school, the sophomore has averaged 18 points per game.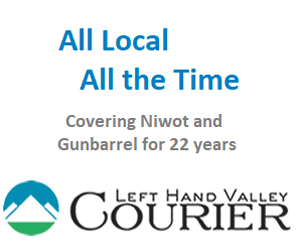 "Tommy comes from a coaching family that is highly competitive," Hardy said of his young guard. "It has been fun watching his maturation."
Meanwhile, center Cameron Carlson recorded his first double-double of the season against Pueblo County, on 16 points and 10 rebounds. The 6-6 junior, who made the jump from C-Team to varsity this year, also recorded two blocks on the night.
"We expect to see Cameron continue to play well on both sides of the floor," said Hardy. "With more reps, he will continue to improve."
With the wins, the Cougars improved to 5-5 on the season, and 1-0 in the Northern League. Hardy is heartened by his offensive resurgence, and thinks his team can take their momentum into their conference schedule.
We are starting to make some shots, so that is helping the point production," he said. "We are going to ride this wave."
The Cougars faced cross-town rival Longmont on Jan. 10, and will be back at home against at Mountain View on Jan. 12.
(1/3) — Niwot 63, Greeley Central 48
Greeley Central (2-6, 0-1) 11 11 14 16 — 52
Niwot (3-4, 1-0) 18 8 7 8 — 41
Adam Barber 10 1-4 23, Jake Sims 5 2-2 17, Thomas Bounds 5 0-0 15, Max Towlen 3 0-0 6, Carter Osteen 1 0-0 2 Totals 24 3-6 63
(1/6) — Niwot 64, Steamboat Springs 62
Steamboat Springs (4-5, 0-0) 11 12 10 16 4 9 — 62
Niwot (4-4, 1-0) 12 2 16 19 4 11 — 64
Thomas Bounds 7 2-2 20, Jackson Kolakowski 2 3-4 9, Adam Barber 4 0-0 9, Jake Sims 3 0-1 7, Alec Helgeland 2 1-5 5, Ethan Radatz 2 0-2 4, Jesse Falk 2 0-0 4, Max Towlen 2 0-0 4, Cameron Carlson 0 2-2 2 Totals 24 8-16 64
(1/7) — Skyview 49, Niwot 47
Niwot (4-5, 1-0) 2 20 15 10 — 47
Skyview (6-3, 0-0) 8 16 10 15 — 49
Adam Barber 4 2-2 10, Cameron Carlson 0 2-2 2, Thomas Bounds 3 0-0 8, Ethan Radatz 2 1-2 5, Jesse Falk 1 3-4 5, Carter Osteen 1 2-2 4, Jake Sims 1 1-2 3, Max Towlen 1 0-0 2 Totals 17 11-14 47
(1/7) —Niwot 79, Pueblo County 70
Pueblo County (5-7, 0-0) 8 16 22 9 11 4 — 70
Niwot (4-4, 1-0) 8 15 12 20 11 13 — 79
Thomas Bounds 12 0-0 29, Jackson Kolakowski 6 4-6 18, Cameron Carlson 7 2-4 16, Alec Helgeland 1 2-4 4, Jake Sims 1 2-3 4, Max Towlen 1 0-0 3, Adam Barber 1 2-2 3, Ethan Radatz 1 1-2 2, Jesse Falk 0 0-2 0, Totals 30 10-19 79