Football: Niwot and Grand Junction play on in face of tragedy and turmoil
It was an extraordinary game that should have been ordinary.
With nothing at stake but pride, there didn't seem to be much need for drama at last weekend's Grand Junction vs. Niwot season finale. But when off-field incidents stunned both teams last week, a game that should have been ordinary became anything but.
On Wednesday, Nov. 2, a Grand Junction High junior and member of the football team killed himself on school grounds shortly after school ended for the day. In the immediate aftermath of the tragedy, the school decided to cancel the team's trip to Longmont, citing concerns that many players were not yet ready "to take part in a football game and travel from home to do so," according to a post on the team's Facebook page.
Given another day to reflect, however, the team reversed course and decided to make the trip after all. By then, the Cougars' program was itself in disarray following the arrest of head coach Dylan Hollingsworth on suspicion of assaulting a student in one of his classes.
But if the Cougars were upset about playing their season finale amid so much upheaval, interim head coach Scott Thomas didn't see it. "They were heartbroken when they learned they might not be able to have closure to their season and play one final game with their brothers," he said.
In fact, for the team's 20 seniors, who were honored in a pre-game ceremony, it would be the final game of their high school careers.
Unfortunately, it would not be the final win of their high school careers. Like too many games this season, the scoring started quickly for Niwot's opponent. On the game's first play from scrimmage, Grand Junction senior running back Michael White ran 65 yards for a touchdown, and the Tigers, who came into the game with one win on the season, would never trail.
Niwot's offense remained in hiding during the first half, while their defense came up with some big plays, including a fumble recovery by junior Matt Baun in the first quarter. Senior cornerback Dallas Lackovic came up with a big hit during a kick return early in the game, but ended up with a broken finger for the effort.
Senior linebacker Zach Kinnison had several key tackles during the half, including an 8-yard sack which cut a Tigers' drive short. Senior receiver/free safety Cody Holliday had his best game of the season both on special teams and on defense. Despite this strong defensive showing, Niwot trailed Grand Junction 21-0 at the half, due in part to a snap over the Niwot punter's head into the end zone just before halftime that led to an easy Tiger touchdown a few plays later.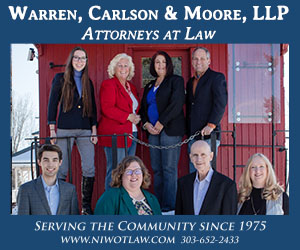 Mistakes continued to haunt the Cougars as Grand Junction scored on a blown coverage that left a Tiger receiver wide open over the middle for an easy TD, when Grand Junction had been facing a third down and long situation.
The Cougars finally got on the board with just under two minutes left in the third quarter, when senior quarterback Trae Gomez connected with senior receiver Adam Barber for a 39-yard touchdown. After a successful two point conversion, the Cougars trailed 28-8.
Niwot generated some excitement in the fourth quarter. Following a long kick-off return by sophomore running back Jeremy Hollingsworth, the Cougars took the ball down field for quick touchdown, a 15-yard run by senior fullback Chris Jensen, making the score 35-15.
The Cougars then recovered an onside kick, and quickly drove for another touchdown, putting them within two scores with 8:54 remaining in the game. But the excitement would not last. Grand Junction recovered Niwot's next attempted onside kick, and scored again within two plays. They would add a field goal with 3:32 remaining in the game, and go on to win 44-21.
After time expired, players from both teams, as well as coaches and game officials, formed a circle in the middle of the field and knelt together for a moment silence.
With the loss, the Cougars finished with a record of 3-7 overall, and 0-5 in the 4A Longs Peak League. It was their eighth consecutive losing season, but their highest win total since going 7-4 in 2008.
Coach Thomas acknowledged the team is still in rebuilding mode, but felt they have made real strides this year. "We didn't have as many wins at the end of the season, but we were certainly playing competitive 4A football," he said.
"I was really happy, as were all the coaches, with the progress that we made this season," he continued. "We couldn't be any prouder of our kids than we are."
Thomas was also straightforward in his praise for the seniors and the influence they've had on the program as a whole.
"They've really exacted a change on our culture," he said. "The fact that they overcame so much adversity, especially here at the end of the season, really shows their character in a strong, positive way."
Grand Junction 44, Niwot 21
Niwot (3-7, 0-5) 0 0 8 13 — 21
Grand Junction (2-8, 2-3) 7 14 7 16 — 44