Niwot football victorious
Longtime fans of the Niwot Cougars football team might have felt a strange sense of déjà vu during Thursday night's season opener against the Adams City Eagles. The last time these two teams met, during the opening weekend of the 2011 season, the result was eerily similar. The Cougars, relying on a strong running game, scored multiple rushing touchdowns en route to a convincing 34-14 victory.
But fans hope that's where the 2011 parallels end. That victory was later forfeited due to an ineligible player, and Niwot would go on to post a dismal 2-8 record. Over the next four seasons, the Cougars would win just five games.
In high school football though, five years is essentially a lifetime and there have been drastic changes to the program's culture since that season. Head Coach Dylan Hollingsworth, now in his second season with the team, feels a growing sense of cohesion and confidence among his staff and players.
"It takes time to build confidence and leadership as a group," Coach Hollingsworth said of his players. "But I see it in their eyes, and I see it in their attitudes and in their actions."
For Coach Hollingsworth there's little reason to believe 2016 will be anything like 2011, or even like more recent seasons such as 2014 and 2015.
"The players did a good job buying into our system this year," Hollingsworth explained. "We got a lot more participation in the weight room and summer programs during the offseason. We're bigger, stronger and faster."
We have a lot of leadership on this team," he continued. "We have a great group of seniors. Alex Oelsner, for example, has gone way above and beyond to prepare for this season."
It was a bittersweet night for the Cougars, however, who lost teammate David Louwers in a plane crash last June. Before the game, Hollingsworth led the crowd in a moment of silence to honor his "passion for life and his love of football." Members of the Louwers family served as honorary captains for the Cougars during the coin toss.
Both teams started slowly, but Niwot was able to get on the scoreboard late in the first quarter on a short run by sophomore running back Jeremy Hollingsworth. Kicker Eddy Olivas added the extra point, giving Niwot a 7-0 lead.
That lead was short-lived, however. A fumble during Niwot's next offensive series gave Adams City possession on Niwot's 26-yard line. The Eagles capitalized on the next play, when senior quarterback Marquis Perez connected with sophomore receiver Jahvell Johnson for a 26-yard touchdown. With a successful two-point conversion, the Eagles led 8-7.
A lightning delay with 4:05 remaining in the half suspended play for 30 minutes. When the game resumed, Adams City's Perez connected with Johnson again, this time for a 66-yard touchdown, giving the Eagles a 14-7 advantage.
Niwot struck back during its next series. A 26-yard reception by Cougar senior Alec Hegeland from senior quarterback Trae Gomez and a strong rushing effort from senior fullback Chris Jensen set up a 4-yard TD run by Jeremy Hollingsworth, his second of the night. At the half, the Cougars trailed by just a point, 14-13.
In the second half, things picked up for Niwot on both sides of the ball. The Cougars scored early in the third quarter on a 78-yard touchdown run by junior running back Anton Sandoval. A successful two-point conversion by junior quarterback Matt Baun put the Cougars ahead 21-14.
The defense had its turn to shine towards the end of the third quarter with big plays from the Cougars' secondary on long passes from Adams City's Perez, and a key sack to end a sustained Adams City drive.
In the fourth quarter, the Niwot offense added two more touchdowns, both short runs by Hollingsworth. On defense, an interception by Sandoval and a fumble recovery by junior Trent Tadewald ended any hopes of an Adams City comeback. Junior Brandon Barton and Oelsner led the defense with six tackles each, while Jensen and Golon each added five tackles. The final score was Niwot 34, Adams City 14. It was the Cougar's first season opening win since 2013.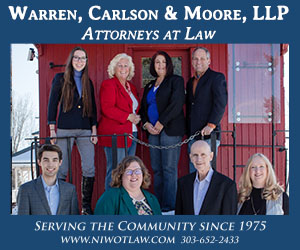 Coach Hollingsworth was pleased with his team's performance and feels it was definitely a step in the right direction.
"It was a great win. A lot of good things happened," he said. "Fox Garza had as good a game at lineman as I have seen in two years here."
For Hollingsworth though, his team's performance in its upcoming game at Summit High School will be the best indicator of its chance for success this season.
"You often see the most growth between the first and second games, and how we work this week is going to be key to a lot of how this season goes."
Hollingsworth is looking forward to his next opponent for another reason as well. Before coming to Niwot in 2015, Hollingsworth spent 10 seasons as the Summit Tigers head coach.
"For the team, it's just another game. But for me, I have friends on the staff, and I know a lot of their players," he admitted.
"Honestly, I have mixed emotions. I wish them nothing but success. But," he added with a chuckle, "I hope they go nine and one this year."
Niwot Individual Statistics
Rushing — Jeremy Hollingsworth 26-147; Anton Sandoval 5-123; Chris Jensen 4-31; Alex Oelsner 3-23; Brendan Hale 4-19; Trae Gomez 5-17; Matt Baun 2-14.
Passing — Trae Gomez 3-9-0-31; Matt Baun 1-3-0-6; Jeremy Hollingsworth 0-1-0-0
Receiving — Alec Helgeland 1-26; Alex Oelsner 3-11.
Sacks — Brandon Golon 1.5; Eddy Olivas 1.0; Shane Timmerman 1.0; Trent Tadewald 0.5.