Niwot cross country: Talented runners and storied history drive new coach's expectations
By most measures, 2015 was an atypical year for Niwot High School's cross country program. Despite some strong individual performances, both the boys and girls teams finished well out of championship contention at last year's 4A State meet. But for new head coach Kelly Christensen, last year's results don't mean much.
"There are a lot of talented runners on this team," said Christensen, "A top three to five finish at state this year is very achievable."
Christensen is certainly no stranger to this level of success in 4A competition. In two seasons of coaching at Palmer Ridge High School in Monument, he won two state titles with his boys track & field teams (2014, 2015), and one with his boys cross country team (2014). Before that, he helped coach the Thompson Valley girls track & field team to the 2012 state championship. Needless to say, he has every intention of bringing such victories to Niwot. "We are so close to winning, and this is the type of community and program where you can build on success."
This year's full cross country squad consists of about 60 runners, just over half of them girls. Seven seniors are returning to the team, including state qualifiers Jenna McCaffrey and Claire Gillett. Other returning runners include junior Kenny Lang, who finished 30th overall in the 2015 state meet, and sophomore Maggie Smith, who was Niwot's top girls finisher at state a year ago.
Christensen has ambitious goals for this year's Cougar team, including a top three finish at state for the girls team and a top five finish for the boys. "It will take a lot to get there, but we have the people," he said.
He also believes that both the boys and girls could have three runners place among the top fifteen individuals. He stops short of predicting a state championship for Niwot this year, but confessed he urges his runners "to keep an open mind about it."
While Christensen admits that his expectations "are pretty high", he also knows his team will face tough competition from its Northern League rivals. "The Silver Creek boys are going to be a special team this year, and the Thompson Valley girls are going to be lights out," he warned. He also singled out Mountain View and Centaurus as teams in the league to watch this year.
Though it's still early in the season, Christensen is pleased with his new team's training and progress so far. "We're right where we want to be," he declared, though he does suspect his new team may be suffering some culture shock. "It's a transition for me…and it's a transition for them," said Christensen, "…but they're responding well, and we're already starting to see results."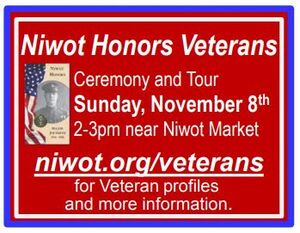 The Cougars kick off the 2016 season on Aug. 26 at the Vista Nation 2-Mile at Mountain Vista High School in Highlands Ranch. Other noteworthy events include the RE-1J District Meet, Sept. 14 at Sunset Golf Course, and the Pat Patten Invitational at Viele Lake in Boulder on Sept. 23.The season concludes with the 4A Region 3 Championships on October 20, followed by the state Championships on Oct. 29.