Tool Studios celebrates 15 years in Niwot
Local advertising agency, Tool Studios, announced it will celebrate 15 years of doing business in Boulder County next month.
The company opened on the fateful morning of September 11, 2001, but in weathering its rocky start, company owner and principal Charles (Charlie) Bell said, "We really had nowhere to go but up." Tool Studios moved its offices to downtown Niwot by the end of that first year.
Operating with a core of in-house, full-time staff (referred to as the company's "ToolBelt"), the agency also uses a pool of freelance talent (the "ToolBox") who are some of the best in the field. With this go-to group of designers and wordsmiths, "I can take on any job of any size or magnitude," Bell said, adding he likes to focus company efforts on "startups and anyone looking to reinvent themselves."
Some agencies in the area went belly up during the economic downturn in 2009, but it's thanks to Bell's diverse client list, which covers a spectrum of industries, that helped keep Tool Studios afloat during tough economic times. The company is one of the five oldest advertising agencies in Boulder County, expanding to the company's current location at 263 Second Avenue, Suite 104, in 2009.
Diversity among Bell's clientele includes everything from big drop-ship wholesalers, online retailers and manufacturers, to smaller cannabis growers, dispensaries and realtors. "Last week we were naming a $400 million dollar aluminum mini-mill and writing an ad campaign for an Australian-based condom company," Bell said. "Then I was working on location, directing a video shoot for the Random Acts of Kindness organization."
Keeping it close to home, Bell and his wife, Alyson Varvel Bell, who handles the company's finances and organization, are likewise partners in their efforts to enhance Niwot's economic vitality. Tool Studios recently reworked the town's website to increase traffic and improve visibility on the web, with traffic up 85 percent since its launch.
Local pro bono work includes the support collateral and t-shirt design for Niwot Elementary School's annual fundraiser, the Niwot Trot, along with the school's directory. The advertising agency continues with ongoing work on a "Uniquely Niwot" advertising campaign, with a series of print and web ads that can be found in local newspapers and on Niwot.com.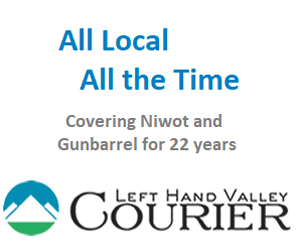 "We're trying to capture the flavor of our town," Bell said. "Where else can someone buy a $100,000 car and then walk next door to pick up a 50 pound bag of goat feed?"
Bell has been active in shaping Niwot's image. Company designers developed the marketing materials and logo for the town's Rock & Rails signature event, as well as "Little Willie," the baby mastodon that's become the mascot and logo for the soon-to-be Niwot Children's Park.
Tool Studios is located at 137 2nd Ave. in Niwot, and can be reached at 303-652-8353.