Niwot girls tennis qualifies five for state
After a long and successful season, the Niwot High School girls tennis team had their biggest challenge ahead of them, the class 4A region 5 championships, to qualify for the state tournament.
They couldn't have asked for more momentum heading into the event, riding a six-match winning streak and going 4-0 in conference play, but this two-day event was a different beast.
Sophomore Julia Pentz had experienced it before, qualifying at last year's regionals in her first season on the team, but she wanted more than just her own success for the day.
"I obviously want to win and qualify for state in my position," Pentz said when asked if she would prefer her success or the team's success. "I also want my entire team to qualify and do as well as possible. I don't think I could really choose."
Luckily for the sophomore standout, she didn't have to choose. Every one of the singles competitors for the Cougars not only qualified for state, but each won their positional championship.
Pentz defeated Standley Lake's Rachel Nguyen in a three-set thriller 3-6, 6-3, 6-0, while fellow dominant sophomore Taylor Thulson won the championship at two singles against Peak to Peak's Trini Somasundaram 6-2, 6-0.
"I was really happy with my draw and how I played," Thulson said of qualifying for state for the second straight year. "I also loved supporting my team the best that I could."
The real surprise of the regionals was freshman Rachel Drake and her performance in three singles. After dropping her first set of the tournament, Drake turned her fortunes around and won six straight sets in order to take home the regional championship in her first year playing for Niwot.
"Going into my first match I was really nervous about the whole regionals thing," Drake said after qualifying for the finals on the first day of the tournament. "My coach really helped me during the second set of my first match to breathe and not think about the individual things, and just think about scoring the next point."
Drake defeated Holy Family senior Elly Beyer, 6-1, 6-2, in the finals to solidify her berth in the championships and Niwot's clean sweep of the singles section.
Cougar Head Coach Aimee Keronen said she was extremely proud of how her team competed, especially given their youth and inexperience.
"We were a little nervous to start but we shut out the nerves and started just playing ball," an excited Keronen said of her team's performance. "We fought hard at every spot, which is what you want to see as a coach."
On the doubles side of the competition, though they didn't win any of the outright championships the one doubles pairing of senior Emma Lerner and junior Amanda Duquette did qualify for state with a second place finish after losing to Holy Family's Lindsey Bovine and Paige Giltner in the finals 6-1, 6-0.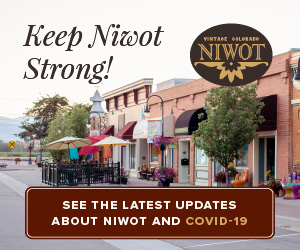 The two doubles pairing of sophomores Jewel Ng and Erin O'Neill lost in the semifinals to Dawson's Maddie Fagundo and Ellie Beeck in a very tight three-set match, but they did win their third place match to qualify as an alternate for state.
Senior Katie Ziel and junior Sophie Vandenberghe also won their third-place match in three doubles to qualify as an alternate for state, while the four doubles pairing of freshmen Sreeya Kairamkonda and Yui Ishikawa fought hard to make it to the third-place match but ultimately lost.
The best news of the tournament is that Pentz got her wish, as she finished first for her position and the team won the regional crown, barely edging out Holy Family by one point, defeating them 73-72 for the tournament championship.
The Cougars now rest up and prepare for the final goal, a win in the state championship and a spot in Niwot sports history. The state championship starts on Thursday, May 12 and runs through Saturday, May 14.
Class 4A Region 5
At University of Colorado South Boulder Tennis Complex
Team Scores — Niwot 73, Holy Family 72, Peak to Peak 38, Dawson School 36, Longmont 27, Standley Lake 25, Silver Creek 19, Centaurus 5, Berthoud 4, Erie 2, Skyview 2, Skyline 1, Frederick 0.
Championship Matches –
1 Singles: Julia Pentz (So,), Niwot def. Rachel Nguyen (So,), Standley Lake, 3-6, 6-3, 6-0.
2 Singles: Taylor Thulson (So.), Niwot def. Trini Somasundaram (Fr.), Peak to Peak, 6-2, 6-0.
3 Singles: Rachel Drake (Fr.), Niwot def. Elly Beyer (Sr.), Holy Family, 6-1, 6-2.
1 Doubles: Lindsey Bovine (Jr.) & Paige Giltner (So.), Holy Family def. Emma Lerner (Sr.) & Amanda DuQuette (Jr.), Niwot, 6-1, 6-0.
Third Place Matches –
2 Doubles: Erin O'Neill (So.) &Jewel Ng (So.), Niwot def. Eva D'Epagnier (So.) & Madi Jayne (So.), Longmont, 4-6, 7-5, 7-5.
3 Doubles: Katie Ziel (Sr.) & Sophie Vandenburge (Jr.), Niwot def. Phoebe Norman (So.) & Jenny Valadez (Jr.), Silver Creek, 5-7, 6-0, 6-1.
4 Doubles: Tanna Carson (Fr.) & Natalie Garcia (Sr.), Longmont def. Sreeya Kairamkonda (Fr.) & Yui Ishikawa (Fr.), Niwot, 6-4, 7-5.