NHS girls tennis dominates Northridge
Having dropped their last two meets, the Niwot High School girls tennis team needed to pull out a win against Northridge last Tuesday, March 22 to get their season back on track.
That proved to be an easy task to accomplish, as the Cougars dismantled the Grizzlies at almost every level, winning the match 6-1.
The only athlete to lose for Niwot was sophomore Victoria Britt, who is normally a JV player and was moved up to varsity to play in the two singles spot in place of sophomore Taylor Thulson who was ill.
Cougar Head Coach Aimee Keronen said it was nice getting back on the court in good weather, considering their last match against Fairview had been canceled due to high winds.
"It was a good match for us, we had good weather and no wind," Keronen said after the match. "We got to actually practice because of the break we had when we rescheduled the Fairview meet. We have had match after match to start the season so it was good to be able to get some work in."
The players showed that the work they put in last week payed off - in all of the wins against Northridge they only dropped a maximum of three games.
Sophomore Julia Pentz, the number one singles player on the team, looked great after losing her first match of the season in her last match against Pueblo West.
Pentz made quick work of her opponent, winning every game in both sets and pulling off the sweep 6-0, 6-0.
Keronen said it was great to see Pentz get back into form after losing a tough battle in her last match.
"[Pentz] was solid today, she played the way she needed to play to win," Keronen said of her sophomore standout. "That girl she played from Pueblo, they play all the time and every time it's three sets. [Pentz] will get another shot at her in state hopefully."
In the three singles match, freshman Rachel Drake had her best match of the season, despite feeling ill before the match started. She only surrendered three games in the match, sweeping the first set 6-0, and winning the second set 6-3. The win was Drake's second of the season and ended a two-match losing streak for the freshman.
"[Drake] played really well, sometimes you have to play through those matches where you don't feel great," Keronen said.
The doubles squads benefited the most from having a break and getting practice time.
Every doubles team won its match, and none of them were close. Between the four doubles teams, they only lost six games in total while winning 48. This was only the second match all year where every doubles team pulled out a victory.
"We haven't gotten to work much with the double teams specifically this season, so the break we had helped and it's showing on the court," Keronen said.
In the one doubles match, junior Amanda Duquette and senior Emma Lerner dispatched their opponents in straight sets, 6-1, 6-1. They had fantastic communication throughout the match and seemed to be developing much better as a team.
"They are starting to get more confident at the net, and they are all playing better together," Keronen said of her doubles teams.
The two doubles team was a similar story to the one doubles, as sophomores Erin O'Neill and Jewel Ng also defeated their opponents in straight sets, 6-1, 6-1. O'Neill specifically had a great match and scored quite a few points for her team.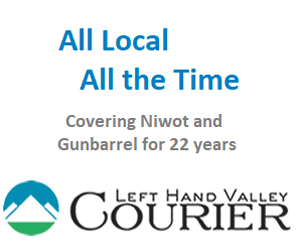 The only doubles team to sweep their opponent on the day was the youngest team. The combination of sophomore Yui Ishikawa and freshman Sreeya Kairamkonda didn't allow their Northridge opponents to win a single game, walking away with the 6-0, 6-0 victory.
Looking ahead for the Cougars, Keronen said there is still work to do in order to round into form for regionals looming ahead.
"We still need to work on more doubles drills to bring out more communication," Keronen said. "For the singles girls, we will bring in some guys from the boys team to work with them."
Niwot next takes the court on Tuesday, March 29 in a make-up match against Fairview in Boulder, then they turn around and host Thompson Valley Wednesday, March 30 at 3:30 p.m.