Community Events Calendar
February 22
Wine About Winter
The Niwot Community Arts Association is holding the sixth annual Let's Wine About Winter tasting and shopping event on Saturday, Feb. 22. Tickets are $30 in advance and can be purchased online at Eventbrite.com. (Search Let's Wine About Winter in Niwot). Proceeds will benefit Whistle Stop Park and Niwot Children's Park.
February 25
Parent Education Event
Boulder Country Day School (4820 Nautilus Court N, Boulder) is hosting "The Worry Monster and the Twelve Dilemmas," a presentation by Jenny Hecht, LCSW, exploring the causes of anxiety in gifted individuals on February 25 from 6:30 - 8 p.m. Admission is free. For more information and to register, visit bvgt.org.
February 26
Historical Lecture
The Niwot Historical Society's 2020 Now & Then lecture series opens with "In Crust We Trust, the history of pies in Boulder County," on Wednesday, Feb. 26 at 7 p.m. at the Left Hand Grange in Niwot (195 2nd Ave.) Admission is free for NHS members and just $5 for non-members. Doors open at 6:30 p.m. For more information, visit niwothistoricalsociety.com
March 2-6
Wish Week at Niwot High
In collaboration with Make-a-Wish Colorado, Niwot High is holding Wish Week, a fundraiser in which students participate in a variety of activities to raise money to grant wishes for children with life-threatening illnesses. The school is sponsoring Isaiah, a Fort Collins seven-year-old with congenital heart disease. Niwot students are planning several events in collaboration with Isaiah's favorite things, including the color blue, Disney, and the infamous Baby Shark song. To help support Isaiah and Wish Week activities, visit http://site.wish.org/goto/Niwot2020 to make a donation. 
January 21 - February 29
Baseball Registration
Early bird registration for the 51st season of Niwot Youth Sports baseball opens on Jan. 21. The program is open to players from ages 4-14 of all abilities. Practices start in early April and games run from early May through June. NYS is also looking for umpires, volunteer coaches, team parents and team sponsors. For more information, visit niwotyouthsports.org.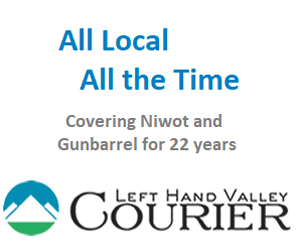 Ongoing
Alzheimer's Support Group
Alzheimer's Association Dementia Caregiver Support Group meets on the first Wednesday of each month from 6 to 7:30 p.m. at the Niwot United Methodist Church (7405 Lookout Road). This free service is for family members and friends who care for and care about people with Alzheimer's Disease and other forms of dementia.